How to Build a Holiday Charcuterie Board
How to Build a Holiday Charcuterie Board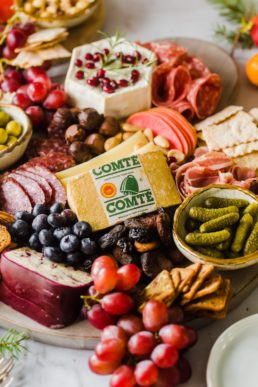 Charcuterie boards are the perfect appetizer for holiday parties, New Year's celebrations, or for a quiet night at home with some wine. Loaded with creamy Comté cheese, meat, crackers, fruit, and nuts, the flavors are bright, decadent, and classic to the season. This winter charcuterie board celebrates the season with grand displays of seasonal and warming ingredients. There are a few elements you need to make a small or large board that showcases the flavors of the holidays and winter weather.
Ingredients
1 Comté cheese, sliced
1 soft cheese, double cream truffle cheese
1 Hawes Wensleydale Cranberry
3 cured meats, prosciutto, salami, or truffle salami
Grapes
1 Apple, sliced
½ cup blueberries
¼ cup pomegranates
Crackers, variety
½ cup olives
½ cup cornichons
¼ cup Marcona almonds
¼ cup hazelnuts, to serve with honey
¼ cup honey, to drizzle on hazelnuts
8 chocolates, of your choice
2 sprigs rosemary, for topping on cheese or board
Instructions
Assemble all the cheese, meat, berries, fruit, chocolates and, on a wood board, platter, or tray. Add honey to hazelnuts in a small bowl.
Add crackers and nuts last so they don't get soggy if making in advance.
Make sure to take your cheeses out of the fridge at least 30 minutes to 1 hour before serving.
Notes
Make it ahead of time

Assemble your board without the crackers and nuts a few hours before guests arrive. Wrap it in plastic and keep it in the fridge. Remove the board 30 minutes before serving so the cheese has time to come down to room temperature.

Keep it budget-friendly

You don't need to go all out to make the best holiday cheese and meat board. Stick to your budget and fill it with just a handful of ingredients you can find at your local grocery store. Just buy multiples of the same ingredients to fill it out.

Make it your own

Don't feel like you need to use every ingredient on this list. Only use the stuff you and your guests love! This will help you create the charcuterie of your dreams without anything going to waste.

Extras

This is the fun part! These extras will fill your board with plenty of colors, flavors, and seasonal flare. You can use a variety of fresh or dried fruit, pickled things, and fresh herbs. You can also add decor like sprigs of holly, mistletoe, Christmas ornaments, or even twinkly lights.