Comté Cornucopia
Comté Cornucopia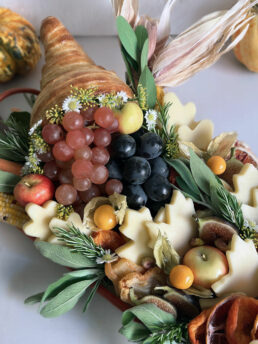 Author:
Jessica Lawrenz @MongerMoldandMilk
Ingredients
Foil
Cooking spray
1 egg
1 tablespoon of water
1-2 refrigerated flatbread dough
Comté
Leaf cookie cutters
A selection of fresh fruit and or veggies, nuts, and dried fruit.
Herbs and edible flowers for garnish.
Instructions
Use foil to build your cornucopia mold. This can be customized to a size you desire and that fits into your oven.
Preheat the oven to 375 degrees
Roll out your flatbread dough and cut into ¼ inch strips.
Spray the foil corn with cooking spray and start at the curved point, wrap the strips of dough around the form, overlapping when starting a new strip and pinching together.
Wrap the dough around the form until you reach the circular opening, stopping about a ½ before the end of the form so you have something to grip when it comes time to take it out.
Beat one egg with a little bit of water and apply egg wash
Spray cooking spray onto your pan
Bake for 15 mins. check and rotate. If the dough is starting to get dark but still needs to cook through you can cover the top with aluminum foil and place it back for another 10-15mins or until the bread sounds hollow when tapped.
Let cool completely before removing the mold.
Assembly:
Place bread horn on a platter and fill with fruits and veggies cascading out onto the platter with your cuts of Comté leaves layered in. We used grapes, crab apples, fresh figs, gooseberries, carrots, dried pears, peaches, and blood orange slices, and pistachios. Garnish with fresh herbs and edible flowers.