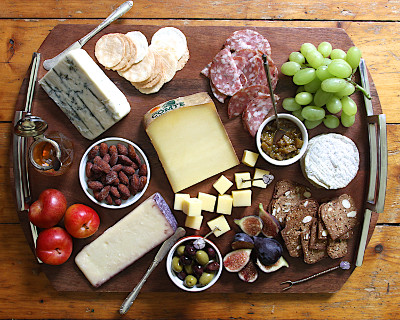 Late Summer Cheese Plate
Ronne loves to entertain and finds a cheese plate is a great way to start a party. That way, there's always something for everyone. One of the best things about putting together a cheese plate is matching the components to the season. She likes to include really beautiful seasonal fruit with great cheeses and classic components, such as honey and nuts. Bringing the season to your cheese plate celebrates all the wonderful flavors that pair well with Comte cheese!
For this cheese plate, she surrounded lovely Comte cheese with the following green grapes and Vermont Creamery Ash-Ripened Goat Cheese, Plouts (a cross between a plum and an apricot), Blue Diamond Honey-Roasted Almonds, Sartori Bellavitano Merlot Cheese, Jan's Farmhouse Salted Almond Crisps, local honey and Black Mission figs, Farmstead Cheese Company Point Reyes Blue Cheese, French medley olives, Le Bon Magot Brinjal Caponata, Saucisson Sec aux Herbes de Provence, Valley Produce Company Crackerthins Australian Watercrackers.