Comté Apple Pie Turnovers
Comté Apple Pie Turnovers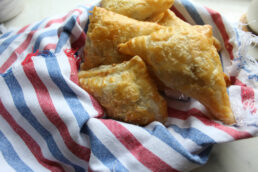 Ingredients
1 Tbs. unsalted butter
1 green apple, small diced
2-3 Tbs. sugar
½ tsp. ground cinnamon
½ tsp. ground ginger
Pinch of salt
1 tsp. maple syrup
1 Tbs. lemon juice (optional)
1 sheet puff pastry, defrosted
2 oz shredded Comté cheese
1 large egg
Instructions
Preheat the oven to 400°F. Melt the butter in a small skillet over medium heat.
Add the diced apples, 2 Tbs. sugar, cinnamon, ginger, and a pinch of salt.
Cook for 5-7 minutes until softened. Stir in the maple syrup and cook until the mixture thickens, about 2 minutes. Taste and add sugar or lemon juice if desired.
Remove the skillet from the heat and set aside to cool. On a lightly floured surface, roll out the puff pastry.
Cut the sheet into 12 equal squares.
Whisk the egg with 1 Tbs. water and brush the edges of the squares with the egg wash. Divide the filling evenly among the squares and top each with about 1 Tbs. of shredded Comté.
Fold the squares into triangles and seal the edges with a fork. Brush the tops of the turnovers with egg wash and top with ½ tsp. of shredded Comté.
Bake for 25 minutes or until golden brown.