Comté & Cocktail Cheese Board
Comté & Cocktail Cheese Board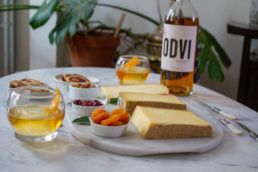 Madame Fromage (@mmefromage), a cheese educator and author of three cocktail books, shows you how to host a Comté tasting with a special drink. Her pairing involves a historic Alabazam cocktail featuring Armagnac, France's oldest distilled spirit. The flavor notes in the drink pair beautifully with the nutty, caramel notes in Comté. The three ages of Comté paired here are: 4 months, 12 months and 24 months. Alabazam Cocktail This bitters-forward cocktail can be traced back to the Criterion Bar in London, the spot where Sir Arthur Conan Doyle first imagined Sherlock Holmes. The recipe originally appeared in the book American and Other Drinks, by Leo Engel, in 1878.
Ingredients
1.5 ounces brandy (I used ODVI Armagnac)
.5 ounce Orange Curaçao
1 teaspoon Demerara sugar
1 teaspoon Angostura bitters
.25 ounce fresh lemon juice
Orange peel, for garnish
Instructions
Add sugar to a mixing glass and top with bitters and lemon juice. Stir to dissolve.
Add the spirits. Stir ingredients with ice and strain into a rocks glass over a single large cube of ice.
To garnish, twist the peel over the surface of the drink to express the oil.
Then, run the peel around the rim of the glass and drop it into the drink.
Notes
(From my book The New Cocktail Hour)


Tips for the Comté Cheese Tasting Board
- Try to find several hunks of Comté at different ages.
- Enhance fruity flavors in young Comté with dried fruit, such as dried orange peels, apricots, and dried cranberries. You can also add a dish of honey.
- Play off the nutty notes in aged Comté with plain or candied nuts, such as walnuts or hazelnuts.
- Underscore the taste of brown butter and brioche often found in Comté with something baked, such as fruited bread.
- Serve cheeses at room temperature. As you taste, notice the aroma of each cheese, along with its texture. As cheeses age, their flavor notes deepen and they become denser in texture.
- Enjoy sips of the cocktail between bites!