Strawberry Gin Spritz with Comté Skewers
Strawberry Gin Spritz with Comté Skewers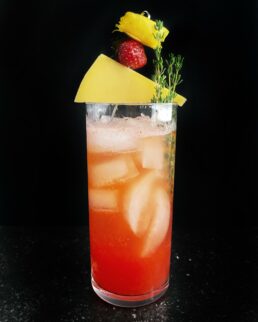 This refreshing spritz is built to complement all of Comté's best qualities. The sweet strawberries flirt with the fruity flavors while gin and thyme tease out those herbaceous, grassy notes. I recommend batching out a few at a time. You won't regret it.
Ingredients
4 strawberries, rinsed and hulled
¾ oz lemon juice
½ oz simple syrup
1½ oz gin (optional)
2 oz seltzer
Garnish:

½ slice Comté, 1 small strawberry, 1x2" strip of lemon peel, and a sprig thyme
Instructions
Make the garnishes: spear a thick cut of Comté with a strawberry and a strip of lemon peel on a cocktail pick. Set aside.
Purée the strawberries, lemon juice, and simple syrup in a blender, then strain them with a metal sieve.
Fill a cocktail shaker with ice. Add the strawberry mix and gin, if you're using it.
Shake for 30 seconds. Fill a highball glass with ice and strain cocktail over.
Top with seltzer. Slap the thyme to release the oils, and garnish the cocktail with the thyme and Comté skewer.