Comté Stuffed Baked Tomatoes (Gluten Free Option)
Comté Stuffed Baked Tomatoes (Gluten Free Option)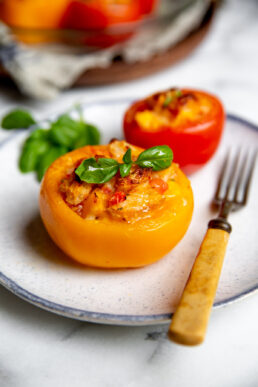 Author:
Nicki Sizemore | @fromscratchfast
These baked tomatoes are inspired by panzanella salad (a.k.a. bread salad) and have an incredible flavor. Whole tomatoes are stuffed with Comté, toasted bread cubes, fresh basil and garlic. The bread soaks up the flavors and turns crispy on top. You'll need a rustic loaf or baguette to make the bread cubes—you can use regular or gluten free bread. Be sure to use a firmer style tomato with fleshy walls (some heirloom varieties have a loose structure and thin walls, and they'll fall apart when baked).
Ingredients
1 heaping cup bread cubes (1/2-inch in size), regular or gluten free
6 medium tomatoes (such as vine-ripened)
1 cup shredded Comté cheese (2½ ounces)
1 garlic clove, grated
1 tablespoon chopped fresh basil, plus more for serving
Salt and freshly ground black pepper
Good quality extra virgin olive oil, for drizzling
Instructions
Preheat the oven to 400˚F (200˚C). Oil a 9-inch pie dish or similar sized baking dish.
Spread the bread cubes on a small baking sheet and bake until lightly toasted, about 5-8 minutes.
Cut off the tops of the tomatoes (remove about ¼ inch). Using a small serrated knife (a steak knife works great), cut around the inside of the tomato, leaving a ¼-inch border. Use a spoon to scoop the flesh and seeds into a strainer set over a bowl. Using kitchen scissors, finely chop the tomato flesh and seeds in the strainer. Let sit 5 minutes to drain.
Arrange the tomatoes, cut sides up, in the baking dish.
In a medium bowl combine the toasted bread cubes, chopped tomato flesh (discard the juice in the bowl or drink it!), Comté, garlic and basil. Season with salt and pepper.
Season the tomatoes with salt and pepper. Mound the stuffing into the cavities.
Bake until the tops are golden brown, about 18-20 minutes. Let cool slightly. Drizzle with the best olive oil you've got, and garnish with more basil.
Do ahead:
The baked tomatoes (without the olive oil and basil garnish) can sit at room temperature for up to 4 hours. You can reheat them in a warm oven or serve them at room temperature. Drizzle them with the olive oil and garnish them with basil right before serving.