Comté & Herb Stuffed Zucchini Boats (Gluten Free)
Comté & Herb Stuffed Zucchini Boats (Gluten Free)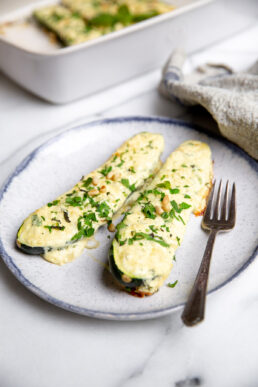 Author:
Nicki Sizemore | @fromscratchfast
These cheesy vegetarian zucchini boats feature fresh zucchini, creamy Comté cheese, ricotta, herbs and garlic. They're an irresistible side dish or main course, and they can be made ahead—perfect for both entertaining and weeknights!
Ingredients
2 tablespoons olive oil, plus more for baking dish
½ medium onion, very finely chopped
Salt and freshly ground black pepper
2 garlic cloves, minced
3 medium zucchinis (about 7 inches long), trimmed
1 cup plus 2 tablespoons shredded Comté cheese, divided (2½ - 3 ounces total)
1 cup fresh ricotta
1 large egg, lightly beaten
2 tablespoons thinly sliced scallions
2 tablespoons finely chopped mixed herbs, such as basil, mint, parsley and/or tarragon, plus more for serving
Toasted pine nuts, for serving (optional)
Instructions
Preheat the oven to 375˚F (190˚C). Rub a 9x13-inch or similar sized baking dish with olive oil.
Heat the olive oil in a medium skillet over medium-high heat. Add the onion, and season with salt and pepper. Cook, stirring often, until softened and golden, about 3-4 minutes. Add the garlic and cook, stirring, until fragrant, about 1 minute. Transfer to a small bowl and cool slightly.
Cut the zucchinis in half lengthwise. Using a small knife, score the flesh (not all the way to the skin), leaving a ¼-inch border. Using a small spoon (a grapefruit spoon works great) scrape out the seeds and discard. If the squash halves are rolling around, cut a very small sliver off the bottom of each so that they lie flat. Place the zucchini halves, cut sides up, in the prepared baking dish.
To the bowl with the onions, add 1 cup of the Comté cheese, the ricotta, the beaten egg, scallions and herbs. Season with salt and pepper, and stir to combine.
Sprinkle the zucchinis with salt and pepper. Spoon the filling down the center of each. Sprinkle the remaining 2 tablespoons of Comté evenly over top.
Bake until tender and golden, about 30 minutes. Let cool slightly then garnish with more herbs and pine nuts, if using.
Notes
Do Ahead

The filling for the stuffed zucchinis can be made the day before—refrigerate it in an airtight container.

Once baked, the stuffed zucchini can sit at room temperature for up to 2 hours (don't add the garnishes). Reheat in a 350˚F oven until warmed through.

Storage

Leftover stuffed squash can be refrigerated for up to 4 days. Reheat it in a 350˚F oven or in the microwave until warmed through.