Soft-boiled Egg & Comté Cheese Soldiers
Soft-boiled Egg & Comté Cheese Soldiers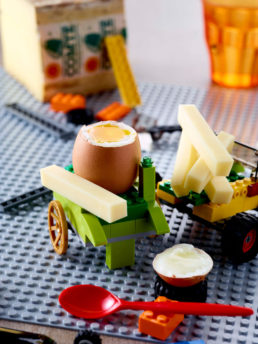 Ingredients
2 eggs
1-2 ounces Comté Cheese
2 English muffins
Butter
Instructions
Bring a pot of boiling salted water to the boil. Gently place the eggs in the pan using a spoon.
Boil the eggs for 3 minutes until they are soft-boiled.
While the eggs boil, slice the muffins in half and toast them. Butter them and cut them into soldiers. Cut the Comté into soldiers as well.
Remove the eggs from the pot and let them cool a few minutes. Remove their tops using a knife.
Enjoy dipping the soldiers into the runny egg yolk!