Comté Grilled Cheese with Garlicky Tomato Herb Butter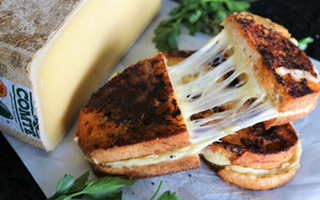 Comté Grilled Cheese with Garlicky Tomato Herb Butter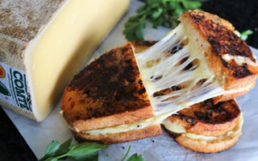 Author:
Erin Harris www.thecheesepoet.ca @thecheesepoet
A grilled cheese sandwich doesn't need to be complicated to be delicious. In this recipe, 18-month aged Comté cheese is paired with sourdough bread and garlicky tomato herb butter. A compound butter is an easy way to add flavor to your grilled cheese without distracting from the star of the show: the cheese!
Ingredients
8 ounces 18-month Comté cheese, rind removed and shredded
4 ½-inch thick slices sourdough bread
⅓ cup salted butter, room temperature
2 tsp tomato paste
2 tbsp mixed fresh herbs (thyme, tarragon, and parsley), finely chopped
1 clove of garlic, peeled and minced
Freshly ground black pepper to taste
Instructions
Prepare the compound butter by mixing together the butter, tomato paste, herbs, garlic, and pepper. Mix well and set aside.
Lay out the sourdough bread and divide the compound butter between the 4 slices, buttering one side of each slice, covering all corners of the bread.
Flip over two of the bread slices, butter side down, and divide the shredded Comté cheese between them in an even layer right to the edges. Gently press the cheese down with the palm of your hand. Top with the remaining bread, butter side up.
Place a 9-inch cast iron pan over medium low heat, and add the sandwiches to the pan. Carefully watch to make sure the tomato butter doesn't burn, while allowing the bread to toast and the cheese to melt through. Flip the sandwiches over once the bottom is browned, and fry the other side. This process should take 6-8 minutes per side. Serve while warm and enjoy!