Savory Comte Tarts with Slow Roasted Tomatoes, Comté and Chives
Savory Comte Tarts with Slow Roasted Tomatoes, Comt, and Chives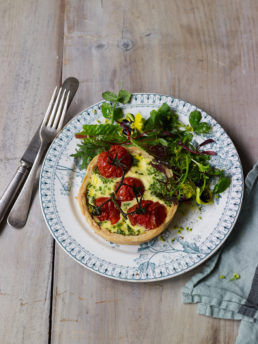 Ingredients
2½ cups all-purpose flour
Kosher salt and freshly ground Black pepper
2 sticks (8 ounces) unsalted butter
⅓ to ½ cup ice water
2 to 3 dozen cherry tomatoes (on the vine, if you can find them)
Extra-virgin olive oil
¾ cup milk
¾ cup cream
3 large eggs plus 1 large egg yolk
1¼ cups coarsely grated Comté cheese
¼ cup thinly sliced chives
6 small handfuls of fresh tender herbs, baby greens, and edible flowers
Half a lemon, for seasoning
Instructions
Put the flour and 1 teaspoon of the salt into the bowl of a food processor, and pulse to combine. Add butter and pulse until the mixture resembles coarse meal. Add 1⁄3 cup ice water, pulse to incorporate, and continue to add water, 1 tablespoon at a time, just until the mixture holds together when squeezed in the palm of your hand.
Divide dough into six portions, flatten into circles, and wrap tightly in plastic wrap. Refrigerate until firm, at least 1 hour.
While the dough is chilling, roast the tomatoes: Preheat the oven to 375°F.Arrange the tomatoes on a rimmed sheet pan, drizzle with olive oil, and season with salt and pepper. Roast until slightly blistered and collapsed, 30 to 40 minutes. Set aside to cool slightly.
Remove dough from refrigerator and let soften slightly to ease rolling, about 10 minutes. On a lightly floured surface, roll each piece of dough to a 1⁄8-inch thick circle, about 7 inches wide. Fit into six 5-inch flan rings or tart shells with removable bottoms. Prick all over with a fork and transfer to a parchment-lined baking sheet. Chill until firm, at least 30 minutes.
Line flan rings with circles of parchment paper and fill with pie weights or dried beans. Transfer to oven and bake until dough begins to turn golden, about 12 minutes. Remove parchment and pie weights, lower the heat to 350°F, and continue to cook until dough is dry, another 10 to 12 minutes. Let cool.
In a medium bowl, combine the milk, cream, eggs, and yolk and whisk until blended. Season generously with salt and pepper and add Comté and chives. Stir to combine. Divide mixture among tart shells. Top with roasted tomatoes and transfer to oven. Bake until set, about 30 minutes.
Let the tarts cool a few minutes while you toss the herbs, greens, and flowers with a bit of olive oil, lemon juice, and a sprinkle of salt and pepper. Arrange a tart and a salad on each plate, and serve warm or at room temperature.