Field Greens and Flowers with Dijon Vinaigrette and Shaved Cheese
Field Greens and Flowers with Dijon Vinaigrette and Shaved Cheese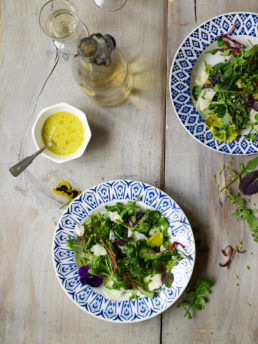 Ingredients
1 tablespoon lemon juice
1 tablespoon white wine vinegar
1 teaspoon Dijon mustard
½ teaspoon honey
Pinch dried chili flakes
Kosher salt and freshly ground black pepper
6 tablespoons extra-virgin olive oil
6 small handfuls mixed tender greens, such as arugula, tatsoi, baby kale, frisée, and spinach
6 pinches edible flowers
¼ cup (approximately) shaved Comté cheese or Parmigiano-Reggiano
Instructions
In a small bowl, whisk together the lemon juice, vinegar, mustard, honey, chili flakes, and a generous pinch of salt and pepper. Taste and adjust the seasonings so they are vibrant.
Slowly whisk in the olive oil until the dressing is creamy and emulsified.Taste and adjust the seasonings again.
Just before serving, toss the greens with about 4 tablespoons of the dressing.Add the flowers and toss again gently.Arrange the salad on plates, scatter the cheese over the top, and serve right away, Passing the extra dressing at the table.