Pumpernickel Toast topped with Comté Blackberries
Pumpernickel Toast topped with Comté Blackberries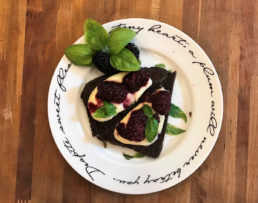 Ingredients
4 slices pumpernickel bread, each about 1 inch (2.5 cm) thick
2 Tbs. olive oil
2 Tbs. (1/4 stick) (1 oz.) unsalted butter
2 Tbs. all-purpose flour
1 cup (8 fl. oz.) whole milk
2 cups (8 oz.) grated Comté cheese
1½ cup (6 oz.) blackberries
Sea salt for sprinkling
Small basil leaves for garnish (optional)
Instructions
Preheat a grill pan over medium-high heat until very hot.
While the pan heats, brush the bread slices with the olive oil. Place the bread slices on the hot grill pan and toast, turning once, until golden brown and crisp, about 4 minutes on each side. Set aside.
In a saucepan over medium-low heat, melt the butter. Add the flour and cook, whisking, until thick, about 30 seconds. Reduce the heat to low and, whisking constantly, slowly stir in the milk. Cook, whisking frequently, until slightly thickened, about 5 minutes. Remove from the heat and stir in the cheese until melted and thoroughly combined. Cover to keep warm and set aside.
In a separate small saucepan over medium heat, cook the blackberries until the berries have softened slightly and begin to release their juice.
To serve, spread Comté cheese sauce evenly on the toast, then top each with an equal quantity of the blackberries.
Sprinkle lightly with salt, garnish with basil leaves and serve immediately.