Picnic Pasta Salad with Roasted Brussels Sprouts and Comté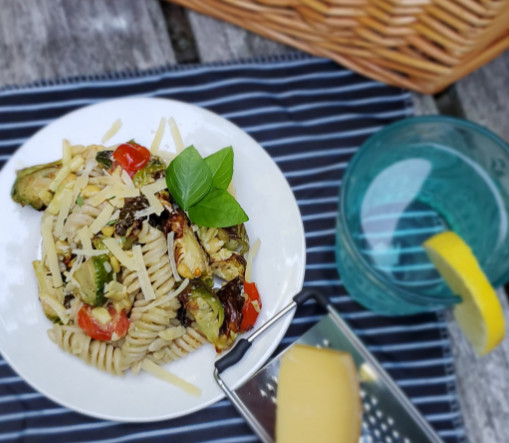 Picnic Pasta Salad with Roasted Brussels Sprouts and Comté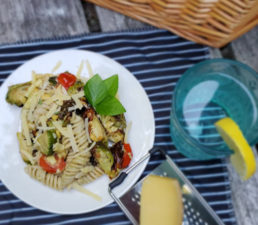 Author:
Kayleigh Napolitano
Ingredients
Salad Ingredients
1½ tablespoons extra virgin olive oil
1 teaspoon salt
1 teaspoon pepper
½ teaspoon garlic powder
1 lb brussels sprouts (rinsed and cut into quarters)
6 ounces pasta of choice (I used a gluten free rice fusilli)
¾ cup grape tomatoes
⅓ cup pine nuts
¼ lb 13-18 month aged Comté cheese, shredded (younger Comté would work just as well)


Dressing Ingredients
1 tablespoon extra virgin olive oil
1 tablespoon honey
½ avocado
3 tablespoons white wine vinegar
1 tablespoon avocado oil mayonnaise
½ tablespoon fresh squeezed lemon juice
2 tablespoons cold water
½ teaspoon garlic powder
1 tablespoon fresh parsley
1 tablespoon fresh basil
1 teaspoon fresh thyme
salt and pepper to taste
Instructions
Cook pasta al dente –rinse with cold water and set aside.
Roast brussels sprouts with extra virgin olive oil, salt, pepper and garlic powder. I used my "roast setting" on my airfryer (350 degress for 12 minutes). You can also roast in the oven at 350 for 20 minutes. You want the outside of the sprouts to be brown and crispy, but not burnt.
Roast tomatoes for 5-8 minutes (in air fryer or oven) until they just begin to blister. You just want to bring out their flavor, but not turn them into mush.
Toast pine nuts on stovetop in small frying pan. I used a quick spray of coconut oil but you can also just toss them into a dry non-stick pan. Use a low heat and constantly keep them moving to prevent burning. This should take about 5 minutes. They should be warm and just starting to brown.
Shred Comté with a large grater. Reserve a small handful. Most will get mixed into the pasta salad but if you are like me, you will want a little extra on top!
Make the dressing by tossing all of the listed ingredients into a blender (or food processor) and blend until green and smooth. You can add more water, 1 tablespoon at a time if you prefer to thin the dressing further.
Toss all of your ingredients (minus your reserved cheese) and dressing together using tongs in a large bowl. Then finish with your reserved Comté on top and dig in!