Savory Comté Scones (Gluten Free)
Savory Comté Scones (Gluten Free)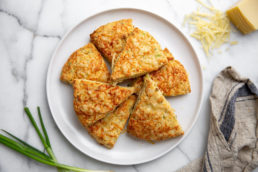 Author:
Nicki Sizemore @FromScratchFast
These savory Comté scones are crispy on the edges, buttery in the middle, and they get a pop of brightness from green onions. Cornmeal keeps the scones tender and provides a pleasant crunch, while a hint of granulated garlic lends depth of flavor. You can use either regular all-purpose flour or a 1-to-1 gluten free flour blend to make gluten free scones.
Ingredients
¾ cup whole milk, plus more for brushing
1 large egg
2 cups all-purpose flour or gluten-free 1-to-1 flour
½ cup cornmeal
2 tablespoons sugar
1 tablespoon baking powder
1 teaspoon fine sea salt
½ teaspoon granulated garlic
6 tablespoons cold unsalted butter, cut into ½-inch cubes
1¼ cups shredded Comté, Gruyere or sharp cheddar cheese, divided
⅓ cup thinly sliced green onions
Instructions
Preheat the oven to 400˚F (200˚C). Line a large baking sheet with parchment paper.
Make the dough
In a measuring cup or small bowl, whisk together the milk and egg.
In a food processor, combine the flour, cornmeal, sugar, baking powder, salt and granulated garlic. Process to combine.
Scatter the cold butter over the top of the dry ingredients. Pulse just until the butter is incorporated and cut into pea-sized pieces, about 7-10 pulses. Sprinkle ¾ cup of the shredded cheese and the scallions over top. Pulse just to incorporate, about 3-4 pulses.
Pour in the milk and egg mixture and pulse again until the dough starts to come together about 5-7 pulses. Don't over-mix at this point—the dough will still look floury but should hold together when pinched.
Shape the scones
Scrape the dough onto the parchment-lined baking sheet. If needed, knead the dough gently with the palm of your hand to incorporate any floury pockets (don't overwork the dough—it should still look shaggy). Gently bring the dough together and press it into a ½-inch thick round (it should be about 8-inches in diameter). You want the dough to hold together, but you don't want to overwork it.
Using a sharp knife or bench scraper, cut the dough into 8 triangles. Separate the triangles, spacing them 2 inches apart on the baking sheet. Brush the tops of the scones lightly with milk, and sprinkle them with the remaining ½ cup cheese.
Bake
Bake the scones until they're golden brown, about 17-20 minutes. Let cool before serving—you can serve them slightly warm or at room temperature.
Notes
Do Ahead: The scones can be stored in an airtight container at room temperature for up to 1 day or frozen for up to 3 months. I prefer to warm them in a toaster oven or regular oven before serving.