Salade au Comté with Apples and Beets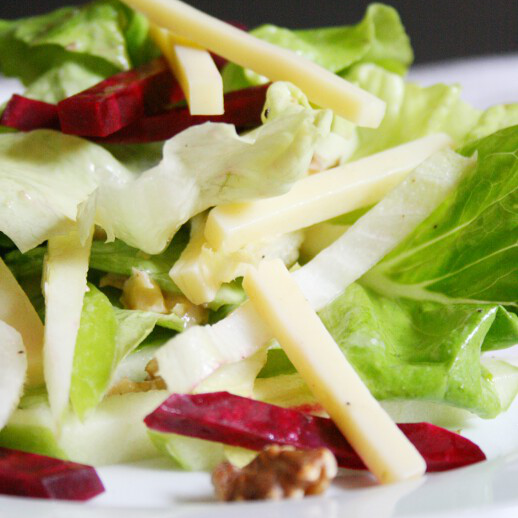 Salade au Comté with Apples and Beets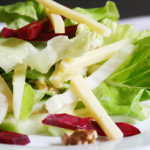 There are as many versions of Salade au Comté, or Comté Salad, in the Jura region of France as there are restaurants. Each version features cubed or slivered Comté, but the other ingredients can vary from cooked or raw vegetables, to hard-boiled eggs, to country ham, to fresh or dried fruits, to roasted nuts… to all of the above! In this version, Comté is combined with crisp apples, sweet raw beets, toasted walnuts, endive and Bibb lettuce for a crunchy and refreshing winter salad that pairs perfectly with the richer dishes of the season. Feel free to experiment with other add-ins to create your own Salade au Comté!
Ingredients
1 tablespoon Dijon mustard
2 tablespoons crème fraiche
1 teaspoon fresh lemon juice
2 tablespoons walnut oil or extra virgin olive oil
1 tablespoon water
Salt and freshly ground black pepper
½ head Bibb or Butter lettuce, torn into
bite-sized pieces
1 endive, thinly sliced crosswise
1 green apple, cut into matchsticks
⅓ cup toasted walnuts
2-3 ounces Comté, cut into matchsticks
1 small beet, peeled and cut into matchsticks
Instructions
For the dressing, whisk together the Dijon mustard, crème fraiche, lemon juice, walnut or olive oil and water. Season with salt and pepper.
In a large bowl, toss the lettuce with the endive, apples, walnuts and Comté. Season with salt and pepper. Add just enough dressing to lightly coat. Pile the salad on four serving plates and arrange the beets over each. Drizzle with a bit more dressing and serve.