Chilled Sweet Pea Soup with Comté Cream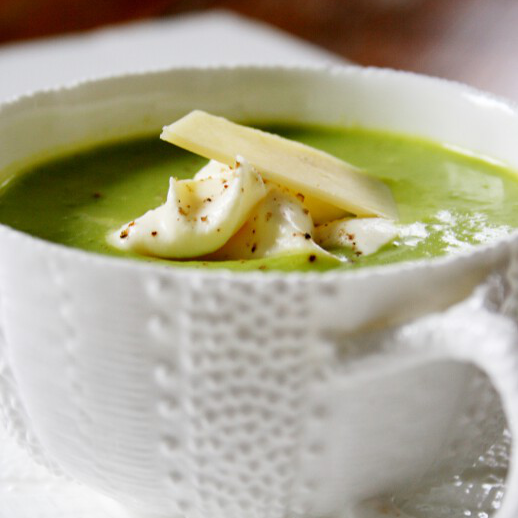 Chilled Sweet Pea Soup with Comté Cream
Serves:
4 appetizer portions
Comté's nutty aromas are a delicious complement to the sweet earthiness of peas. In this recipe, chilled sweet pea soup gets topped with a dollop of Comté infused cream and thin shavings of Comté. It's a showstopping first course that's sure to impress!
Ingredients
½ cup heavy cream
1 ounce Comté, finely shredded on microplane (about ½ cup packed), plus Comté for shaving
Salt and freshly ground black pepper
2 tablespoons butter
1 medium leek, white and light green parts only, halved lengthwise and thinly sliced
1 garlic clove, minced
1 teaspoon minced fresh mint
¼ cup white wine
2 cups defrosted frozen peas or blanched shelled peas
1¼ cups low-sodium chicken broth
2 tablespoons fresh lemon juice
¼ teaspoon sugar
Instructions
In a small saucepan, cook the heavy cream and Comté over low heat, stirring, just until the Comté melts. Season with salt and pepper. Transfer to a large bowl. Cover and chill until cold.
In a medium pot, melt the butter over medium-high heat. Add the leeks with a pinch of salt and pepper. Cook, stirring often, until the leeks are softened but not browned, 5-7 minutes. Add the garlic and mint; cook, stirring, 30-60 seconds. Stir in the white wine and reduce by half. Scrape the mixture into a blender. Add the peas, broth, lemon juice and sugar. Blend until smooth. Season with salt and pepper. Refrigerate until cold.
Using a hand blender or large whisk, beat the chilled Comté cream until thickened with soft peaks.
Pour the soup into serving glasses. Dollop the Comté cream on top and sprinkle with freshly ground black pepper. Using a vegetable peeler, shave Comté over each. Serve immediately.