Comté Fondue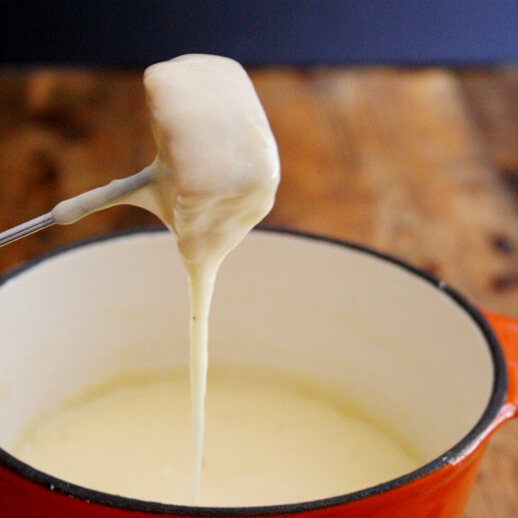 Comté Fondue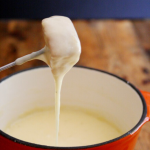 Comté fondue is a staple on restaurant menus all over the Comté region. Eating fondue at La Petite Echelle, a mountain inn and chalet in Rochejean, is a unique experience linking food to history, tradition and terroir. The three-centuries-old inn is a stopping point for hikers and shepherds, serving traditional dishes by candlelight (there's no electricity). The fondue, which is the highlight of the menu, combines Comté with local Jura wine, foraged wild mushrooms and local mountain herbs for a true taste of terroir. But you don't need to be in the Jura Mountains to enjoy Comté fondue. This mouthwatering version can be mastered in any home kitchen and will give you a taste of the flavors and convivial culture of the Jura, no matter where you live!
Ingredients
1 pound mature Comté (preferably 10-18 months), shredded (about 5 cups shredded)
2 tablespoons cornstarch
1 garlic clove, peeled and halved
1 cup plus 2 tablespoons dry white wine (preferably Jura wine, if possible)
Freshly ground black pepper
Good quality crusty bread, cut or torn into bite-sized pieces
Instructions
In a large bowl, toss the shredded Comté and cornstarch until well combined.
Rub the inside of fondue pot with cut sides of garlic. Discard garlic. Add wine and bring to boil.
Reduce heat to medium-low. Add a quarter of the Comté and stir until melted. Continue stirring in cheese, a quarter at a time, until melted. Cook, stirring, until fondue is completely smooth and richly coats the back of a spoon. Season with freshly ground black pepper.
Serve the hot fondue with crusty bread for dipping.