Roasted Fall Vegetables with Comté
Roasted Fall Vegetables with Comté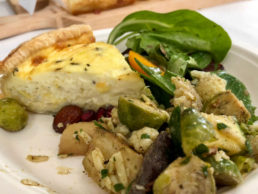 Author:
Rachel Freier & Laura Sutter from Culture: The Word on Cheese
Ingredients
· 1 head cauliflower
· 1lb brussels sprouts
· 1 bunch tri color carrots
· 1 cup grated Comté (12 mo)
· ⅓ cup olive oil
· 1 TBSP zaatar (mix with sesame and salt)
· ¼ tsp black pepper
· 1 tsp salt
· ½ cup Marcona almonds
· ⅓ cup pomegranate seeds
· ¼ cup chopped parsley
Instructions
Pre-heat oven to 400ºF
Remove green part of cauliflower, cut into medium florets.
Cut off stem of brussels sprouts and halve.
Peal carrots and cut into ½ inch pieces.
Toss together with olive oil, salt, zaatar and black pepper and roast until tender about 30-40 minutes.
Remove from oven and let cool 20 minutes.
Toss with grated Comté, chopped parsley, pomegranate seeds and Marcona almonds and serve room temperature.
Notes
Enjoy with a crisp glass of French Cider such as Etienne Dupont Bouche Brut.