Asparagus Comté Tart
Asparagus Comté Tart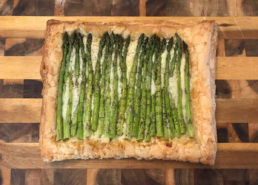 This is a fresh summer recipe that is perfect as an appetizer for a group or as a main course. It lends itself to easy outdoor dining.
Ingredients
1 sheet thawed, pre-made puff pastry
2 cups shredded Comté cheese
1½ pounds asparagus, if thick stalks, slice in half length-wise
1 tablespoon olive oil
sea salt and freshly ground pepper
Instructions
Preheat oven to 400˚
On a lightly floured surface roll out the puff pastry so it is 16 x 10 inches. Trim the edges if desired so it is neat and square.
Cover a baking sheet with parchment paper and then move the pastry onto it.
Lightly score the pastry one inch from the edge and work it into a rectangle shape, then take a fork and prick all over the inside of the rectangle.
Bake until golden brown, about 15 minutes. Let cool for a few minutes.
Sprinkle the cheese all over, leaving about a 1" border.
Top with asparagus, placing them so half the tops are on one side.
Drizzle with olive oil and sprinkle with salt and pepper.
Bake until the asparagus is tender, about 20-25 minutes.
Allow to cool a few minutes before serving. To serve, use a wheel cutter or sharp knife to slice into squares.