Monte Cristo Sandwich with Comté Cheese
Monte Cristo Sandwich with Comté Cheese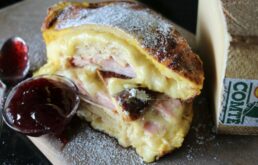 Author:
Erin Harris www.thecheesepoet.ca @thecheesepoet
The Monte Cristo sandwich is an American twist on the classic French Croque Monsieur, an indulgent dish with layers of sliced baked ham, oozy Comté cheese, and country bread. The Monte Cristo calls for additional layers of sliced deli turkey and Dijon mustard, before it takes a dip in egg wash, and gets fried to crispy, melty perfection. The real twist comes from a dusting of powdered sugar and a side of strawberry preserves, an unconventional but delicious garnish that adds a contrasting sweetness to an otherwise savoury sandwich.
Ingredients
4 ounces shredded Comté cheese
4 slices white or sourdough bread
3 ounces country ham, sliced thin
3 ounces deli turkey, sliced thin
2 tbsp mayonnaise
2 tbsp Dijon mustard
2 eggs
¼ cup milk
2 tbsp butter
¼ cup strawberry preserves
Powdered sugar for dusting
Instructions
To prepare the sandwiches, begin by placing two slices of bread on the counter, and divide the mayonnaise between them. Divide the Dijon mustard between the other two slices of bread. Divide the shredded Comté cheese evenly between all 4 slices of bread. Arrange the ham slices on two of the pieces of bread, and the turkey slices on the other two. Bring the bread together to form two complete sandwiches. Press down on the sandwiches with some weight so that they stick together well. Optional: the crusts of the sandwich can be trimmed off if they are tough or rigid. If they are soft, they can be left on.
In a medium bowl, whisk together the eggs and milk. Dip each sandwich in the egg wash, allowing all sides of the bread to absorb the egg.
In a medium frying pan over medium heat, add the butter and melt it completely. Once the pan is hot enough to fry the bread, add the sandwiches to the pan, leaving space around each sandwich so they can cook evenly. Lower the temperature of the pan slightly, and fry the sandwiches for 5 to 7 minutes on each side until golden brown, and warmed all the way through to melt the cheese.
To serve, dust the warm sandwiches with powdered sugar and serve with strawberry preserves for dipping.