Comté Crisp Bites
Comté Crisp Bites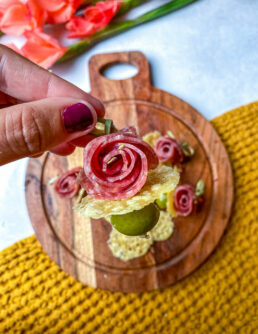 Author:
Catie Vignona, @gatherandgrazebycatie
The perfect bite size appetizer for all of your fall gatherings Delicious and EASY to make
Instructions
Shred 4 oz. of cheese on the small size of grater
Preheat the oven to 300˚F and line a large baking sheet with parchment paper
Divide the cheese into small piles and pat them down to make 2-inch circles
Bake for 20 minutes and let cool
Notes
Slide the crisps right onto a skewer with your favorite pairings!
I chose Italian dry salami and a castelvetrano olive!
Chef's kiss- ENJOY!