Gougères (Cheese puffs)
Gougères (Cheese puffs)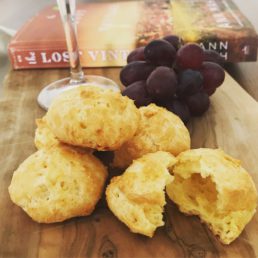 Burgundy is, obviously, famous for its wine – but the food is pretty fantastic, too. When I visited the region to research The Lost Vintage, my favorite treat was the gougère – a cheese puff that is at once savory, crisp, and tender. As it turns out, gougères hail from Burgundy where they traditionally accompanied cellar wine tastings. Made of choux pastry, they seem mercurial to cook. In fact, they are ridiculously simple – so easy, I often bake them with my four-year-old daughter. Although some choose to pipe the dough into mounds, I prefer to shape it with spoons, which creates a rough surface that turns golden and crunchy in the oven. If you make these, beware: a batch doesn't last long.
Ingredients
⅔ cup (160 ml) water
½ teaspoon fine salt
¼ teaspoon cayenne pepper
5 tablespoons (65 grams) butter
¾ cup (90 grams) all-purpose flour
3 large eggs
⅔ cup (75 grams) grated Comté cheese
Instructions
Preheat the oven to 425ºF (220ºC).
Line a baking sheet with parchment paper.
In a medium saucepan, combine the water, salt, butter, and cayenne pepper. Heat the mixture until the butter melts and it begins to boil.
Immediately dump in the flour and stir briskly to combine. Continue to stir over medium heat until the mixture forms a ball and begins to film the bottom of the pan, about 2 minutes.
Remove the pan from the heat and allow the mixture to slightly cool. Add the eggs one by one, stirring vigorously with a wooden spoon to fully incorporate each one. Add the cheese and stir to combine.
Using two spoons, portion the dough into small mounds on the prepared baking sheet. Each mound should be about the size of a cherry tomato; space them evenly to allow for puffing.
Bake for 5 minutes, then lower the oven to 375ºF (190ºC) and continue baking for 18-20 minutes until puffed and golden brown.
Notes
Gougères are best hot from the oven, but still appealing at room temperature. To reheat, place them in the oven at 350ºF (175ºC) for 4 to 6 minutes.