Spinach Quiche
Spinach Quiche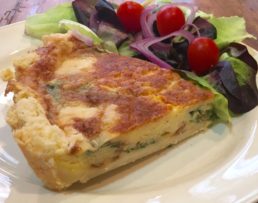 Author:
Brette Westerlund, adapted from her student days in Paris
Serves: 6-8
Ingredients
2 cups flour
Palm full of salt
16 tbs. butter
⅛ cup of water
6 eggs
8 oz. crème fraiche
1 tsp. salt
½ small onion (diced in to small pieces)
5 oz. to 6 oz. baby spinach
1 ½ to 2 cups of grated Comté
Olive oil
Instructions
Make the crust
Preheat oven to 400°. Oil tarte or quiche pan and sprinkle with flour.
Mix flour, salt and butter in food processor, add water. Shape in to a ball. Press mixture in to the pan.
Make the filling
Sauté diced onion in olive oil over medium heat until soft and slightly carmelized. Add spinach and stir until wilted. Spread spinach mixture on top of crust.
Cover with Comté.
Mix eggs, crème fraiche, and salt with an eggbeater or wire whisk. Pour into pan. Bake for 30 minutes.
Let cool slightly before serving.
Notes
Bacon or any other vegetable can be substituted for spinach.