Corn Soup with Comté Cream and Herb Oil
Corn Soup with Comte Cream and Herb Oil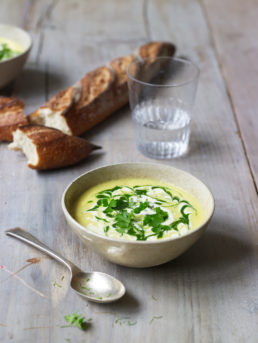 Ingredients
1⁄3 cup plus 1 tablespoon olive oil
½ cup lightly packed mixed herbs (such as basil, parsley, and cilantro), plus a few more sprigs for serving
kosher salt and freshly ground black pepper
1 cup heavy cream
½ cup grated Comté cheese
2 tablespoons unsalted butter
2 medium yellow onions, coarsely chopped
kernels from 6 ears of corn (about 4½ cups kernels), plus the corn cobs
6 cups water (or low-sodium chicken broth)
Instructions
Make the herb oil
In a blender, Combine 1⁄3 cup olive oil, Herbs, and a pinch of salt. Blend until smooth and strain through a fine-meshed sieve into a small bowl. Press a small sheet of plastic wrap on top to prevent oxidation and set aside.
Make the Comte cream
Heat the cream in a medium saucepan until simmering. Simmer until slightly reduced and thickened, about 10 minutes. Remove from the heat, whisk in the Comté, and season generously with salt and pepper. Keep warm if serving the soup hot; let cool if serving it chilled.
Make the soup
In a large pot over medium heat, Melt remaining 1 tablespoon olive oil and the butter. When foaming subsides, add onion, season generously with salt, and cook, stirring occasionally, until onion is softened and beginning to brown, about 15 minutes.
Add the water or broth and reserved corn cobs and bring to a boil. Reduce to maintain a brisk simmer and let cook 20 minutes.
Remove corn cobs, scraping with a spoon to remove any inner kernels. Add corn kernels, Simmer for 4 minutes, and remove from heat.
Transfer to a blender, in batches if necessary, and puree on high until very smooth. Serve warm or chilled. Just before serving, drizzle or dollop the Comte cream over the soup, and then drizzle the herb oil on top. Drag a knife through the toppings to make a pretty pattern, Top with herb sprigs and serve.