Easy Comté & Sweet Potato Soufflé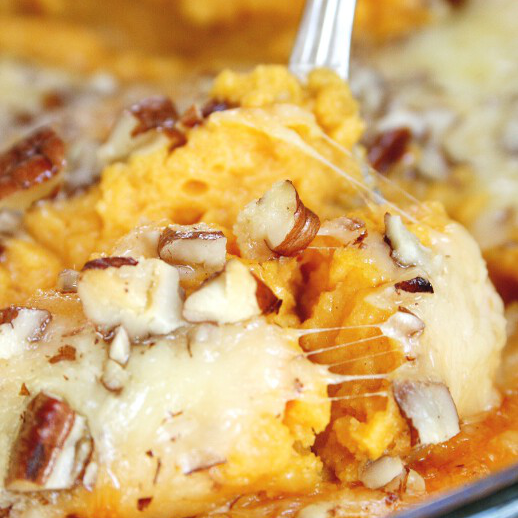 Easy Comté & Sweet Potato Soufflé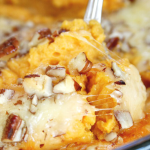 Forget the stress of a traditional soufflé; this simplified version provides all of the elegance and flavor with only a quarter of the work! Sweet potatoes get whipped together with spices, eggs, cream and Comté right in the food processor, then baked with a sprinkling of extra Comté and pecans on top.
Ingredients
3 pounds sweet potatoes (2-3 large potatoes), peeled and cut into 1-inch chunks
1 tablespoon plus 1 teaspoon salt
6 tablespoons butter, cut into pieces
¼ teaspoon ground cinnamon
⅛ teaspoon ground nutmeg
2 tablespoons brown sugar
¼ teaspoon pepper
½ cup heavy cream
3 large eggs
4 ounces Comté, shredded (about 1 cup, packed)
¼ cup chopped pecans
Instructions
Preheat the oven to 425°F. Butter a 2-quart casserole dish.
Put the potatoes in a large saucepan and cover with cold water. Add 1 tablespoon salt. Cover and bring to a boil. Lower to a simmer and cook, uncovered, until the potatoes are tender, about 8-10 minutes.
Drain the potatoes and immediately transfer them to a food processor with the butter. Process until smooth. Add the cinnamon, nutmeg, brown sugar, pepper and heavy cream, along with 1 teaspoon salt. Pulse until mixed. Add the eggs and process until light and fluffy. Add half of the Comté and pulse until combined.
Transfer the mixture into the prepared casserole dish; smooth out the top with a spatula. Sprinkle the remaining Comté over the top, followed by the chopped pecans. Bake 20 minutes, or until puffed and light golden around
the edges.