Crostini with beet and walnut puree, parsley and shaved Comté
Crostini with beet and walnut puree, parsley and shaved Comté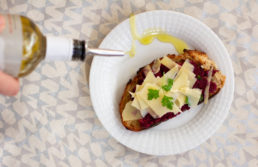 Author:
Kirstin Jackson, itsnotyouitsbrie.com
Here, Comté's sweet, brown buttery notes lend themselves to beet's earthiness and caper's briny punch. Add toasted walnuts (traditionally served with the cheese in the Jura) to the mix for a lively spread that highlights Comté's rich flavors. This recipe is easy. Just roast your own beets or pre-order already roasted, lightly toast your walnuts, and be sure to rinse your capers so they're not too salty. Spoon the beet and walnut puree over pre-toasted, fried, or grilled bread or crostini, then top with shaved Comté for a great party appetizer or work-from home lunch. Makes about 1 cup of spread, or 4 lunch-worthy size crostini.
Ingredients
¼ cup plus 1 tablespoon extra-virgin olive oil,
1 small clove garlic, chopped
1 tablespoon capers, rinsed and drained
152 grams/5 to 6 ounces roasted beets
60 grams/4 ounces walnuts, lightly toasted
3 tablespoons parsley, lightly chopped
2 tablespoons parsley leaves, for serving
2½ teaspoons lemon juice, freshly squeezed
⅛ teaspoon salt
1/16 teaspoon freshly ground pepper
140 grams/56 ounces Comté
4 large crostini
Instructions
In a small sauté pan, add ¼ cup olive oil, garlic and capers. Bring to medium-low heat. Swirling the pan or using a spatula to stir, cook until the garlic starts to turn slightly golden.
Add the beets, walnuts, chopped parsley, lemon juice, salt, and pepper to the bowl of a food processor. Pulse five times.
Add the olive oil and garlic mixture and pulse for 2 seconds. Stopping to scrape down the sides of the bowl with a spatula a few times, pulse until all is uniform and resembles the texture of an olive tapenade.
Divide the beet puree equally onto crostini, grilled bread, or toast. Using a vegetable peeler, shave thin slices of Comté over the beets. If you don't have a vegetable peeler, thinly slice the cheese.
Sprinkle the crostini with parsley leaves and drizzle with the remaining tablespoon of olive oil.