Pork Loin Roulade with Cracklin' Crust and Chard-Comté Filling
Pork Loin Roulade with Cracklin Crust and Chard-Comte Filling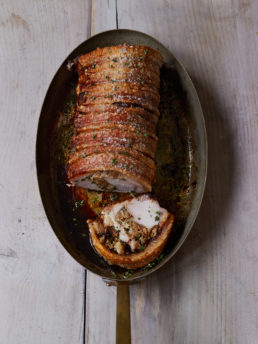 Ingredients
3 tablespoons unsalted butter
¼ cup olive oil
1 large yellow onion, roughly chopped
kosher salt and freshly ground black pepper
4 cloves garlic, finely chopped
¾ teaspoon fennel seed, ground in a mortar and pestle or spice grinder
½ teaspoon freshly ground nutmeg
¾ teaspoon red chili flakes
2 heaping cups ¼-inch bread cubes, dried overnight or in a 300°F oven for 1 hour
⅔ cup coarsely grated Comté cheese
½ bunch flat-leaf parsley, leaves roughly chopped
1½ cups roughly chopped Swiss chard or spinach leaves
1 tablespoon thyme leaves, Roughly chopped, plus additional for garnish
Zest of ½ lemon
6½ pound boneless pork loin roast, skin-on and butterflied (you can ask your butcher to do this)
coarse sea salt, for serving
Instructions
Preheat oven to 450°F.
In a medium skillet over medium-high heat, combine butter and 3 tablespoons of the olive oil. When foaming subsides, add onion. Season generously with salt and pepper and sauté, stirring, just until onion begins to turn golden, 12 to 14 minutes.
Add garlic, ground fennel seed, nutmeg, and chili flakes. Cook, stirring, 4 minutes more.
Transfer to a large bowl and let cool slightly. Add bread cubes, Comté, parsley, chard, thyme, and lemon zest. Fold to combine and season to taste with additional salt and pepper.
Place pork, skin side up, on a work surface. With a sharp knife, score the skin in 1-inch intervals, parallel to the direction that you plan to roll, cutting half-way into the fat cap, and avoiding cutting into the flesh. (If you're using a roast without the skin, skip the prior step.)
Generously season the pork on all sides with salt and pepper. Place pork flesh side up and spread stuffing in an even layer on butterflied portion. Roll tightly to enclose, and secure with butcher's twine. Note: If pork is at room temperature, it will be easier to roll and will roast more evenly.
Place pork, skin side up, in a shallow roasting pan. Drizzle exterior with remaining 1 tablespoon olive oil, season with salt and pepper, and transfer to oven.
Roast until skin is blistered and golden, about 30 minutes. Rotate pan and reduce oven to 350°F. Continue roasting until internal temperature registers 130°F to 135°F on an instant-read thermometer, about 1 hour more; a skinless roast may take less time.
Let rest 15 minutes and garnish with additional thyme leaves and sea salt, if you like. Slice along the score marks and serve.