Comté Puff Pastry Pinwheels
Comté Puff Pastry Pinwheels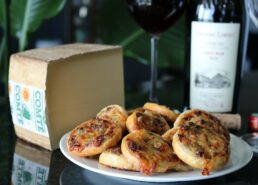 Author:
Erin Harris www.thecheesepoet.ca @thecheesepoet
L'apéro is the French equivalent to Happy Hour, where delicious small nibblies are shared with friends over a glass or two of wine. These Comté stuffed puff pastry pinwheels are the perfect addition to your next l'apéro, and pair well with a glass of Pinot Noir or Gamay.
Ingredients
2 sheets frozen puff pastry, thawed in the refrigerator overnight.
2 cups shredded Comté cheese, about 6 ounces
½ cup finely chopped sundried tomatoes, well drained if packed in oil
½ cup finely chopped picholine olives, pits removed
1 tablespoon Dijon mustard
1 tablespoon fresh thyme leaves
1 teaspoon freshly ground black pepper
Flour for dusting
Instructions
Prepare two baking sheets with parchment paper and set aside. Dust a clean workspace with flour and lay the two sheets of puff pastry on top of the flour, making sure they do not stick to the counter.
In a mixing bowl, mix together the Comté cheese, sundried tomatoes, olives, mustard, thyme, and black pepper. Once properly mixed, distribute the cheese mixture over the two sheets of puff pastry, into one even layer, covering all of the surface of the pastry to the edges.
Starting at the long edge, roll the puff pastry into a log, being careful to keep the cheese filling in an even layer. Repeat with the second sheet of pastry, and wrap the logs in plastic wrap. Place the logs on a flat surface in the freezer for 1 hour, or until firm.
Preheat the oven to 375°F. Remove the pastry logs from the freezer to a lightly floured workspace and using a sharp, serrated-edge knife, slice into ½ -inch thick slices. Arrange the pinwheels on the prepared baking sheets 1-inch apart. Bake until golden brown and the pastry is cooked all the way through, approximately 15 minutes. Once cooled, serve the puff pastry pinwheels at room temperature. *note: these can be prepared ahead of time and kept as frozen logs, ready to be sliced and baked as needed. Keep a log or two in your freezer and you will always be prepared for l'apéro!