Comté Ice Cream
Comté Ice Cream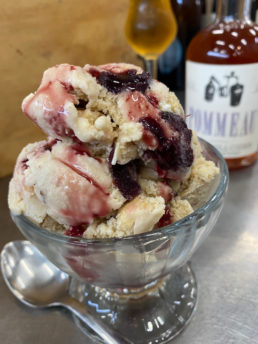 Author:
Rachel Freier @sweetpunk @thecheesecoursespace
Yield: 1 quart This is a very special cheese dessert that can be served as your cheese course! Make it for the cheese lovers in your life.
Ingredients
8 oz Comté grated
1 cup heavy cream
1 cup whole milk + ¼ cup whole milk
4 egg yolks
½ cup sugar
¼ tsp vanilla
4 oz hazelnuts
5 oz cherries in syrup (Stonewall Bing Bing )
¼ cup cherry syrup
½ cup *Pommeau (sub with apple brandy, Port or sweet Sherry)
Instructions
Pre-Prep: Should be done the day before you plan on making your Comté ice cream or at least 6 hours prior.
Cut off rinds from your piece of Comté. Grate Comté on the larger grate side of your box grater. The size of the grated cheese will be the size of the cheese pieces in your ice cream. I like to think of this ice cream as a loaded ice cream, like Chunky Monkey or Rocky Road with delicious bites of hazelnuts, cherries, and Comté.
Combine heavy cream and milk together and mix. Add grated Comté to the milk mixture and leave to soak overnight or at least 6 hours. This step will infuse the Comté flavor into the milk.
On the day
Toast hazelnuts: pre-heat oven to 375F. Spread hazelnuts on a sheet tray. Sprinkle with ½ tsp olive oil and toss on pan to coat hazelnuts.
a. Toast for 7 minutes. If your hazelnuts have their skin on, rub off the skin with your finger, they should slide off easily.
b. Chop roughly. Soak in ¼ cup whole milk for an hour. Strain and keep hazelnuts to add into ice cream. Add the milk to the Comté milk blend.
Use your favorite cherries in syrup for this recipe. Make sure to remove pits (if not already removed) and stems from cherries and cut in half. Add to small pot with Pommeau and ¼ cup of cherry syrup. Reduce 15-20 minutes on low until slightly thickens. Let cool. Strain cherries to be added to the ice cream mix and reserve syrup to drizzle on top of your Comté ice cream.
Mix egg yolks and sugar together until pale yellow & fluffy.
Strain grated Comté from milk and set aside. You will use 4oz of the soaked grated Comte in the ice cream. Reserve the other 4 oz of milk-soaked grated Comté
for Mac & Cheese, Quiche, Omelet, or any other cheesy recipe.
Heat the milk mixture and vanilla in a medium pot until almost boiling, stir frequently. Turn off heat and let cool for 3 minutes.
Slowly pour into the egg mixture, whisking continuously. Add yolk and milk mixture back into the pot whisking continuously and continue to cook until slightly thickened. Careful not to overcook or yolks will coagulate. Strain through a fine mesh strainer. Allow to cool completely. Add ice cream base to your ice cream machine and churn according to your ice cream machine's recommended time for ice cream with add ins. When the ice cream begins to freeze add in the grated Comté.
When the ice cream is almost ready add in the cherries and nuts.
Serve with a drizzle of the cherry syrup on top and enjoy with a glass of *Pommeau.
Notes
*Pommeau is an aperitif drink from northwestern France. It is traditionally made with cider and Calvados (apple brandy) blended and barrel aged.
American cider makers are producing excellent versions of this classic French aperitif. Check out: South Hill Cider, Orchard Hill, Eve's Cidery.