Comté Happy Hour
Comté cheese is a versatile, high-quality ingredient that adds richness to both sweet and savory recipes. While we think a nice wedge of Comté cheese makes an impressive addition to any table, this collection of recipes will elevate your next happy hour – and the best part – they can be made ahead and finished just before your guests arrive, which makes hosting your next happy hour deliciously easy.
Comté and herb Palmiers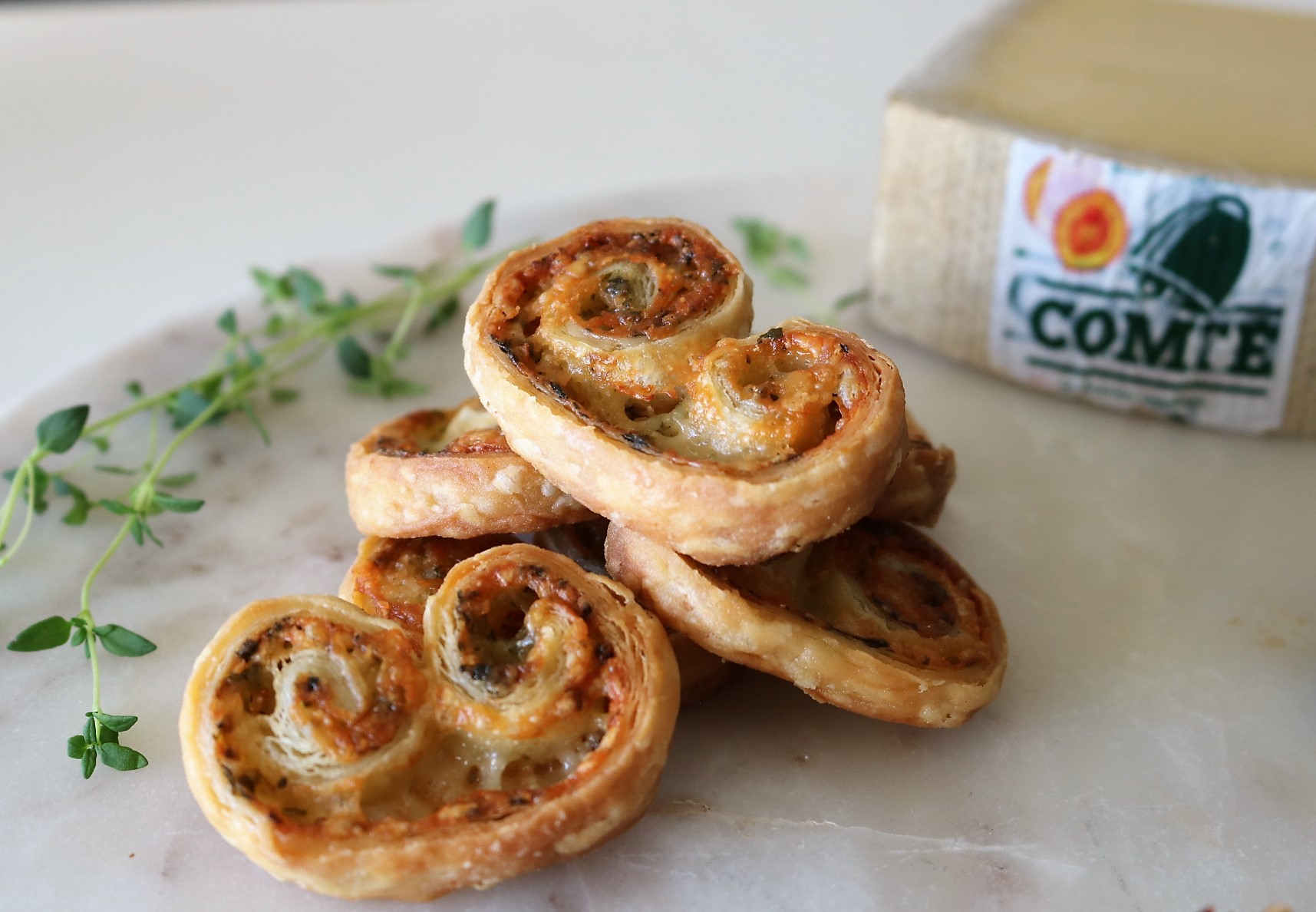 Author:
Erin Harris www.thecheesepoet.ca @thecheesepoet
Ingredients
⅓ cup grated 12-15 month aged Comté cheese
1 sheet store-bought puff pastry, thawed and kept cool
¼ cup mayonnaise
1 tbsp Dijon mustard
tbsp mixed chopped fresh herbs (parsley, thyme, rosemary, or basil)
1 tsp ground black pepper
Instructions
Line a baking sheet with parchment paper and set aside. Lightly flour a clean work surface and place the puff pastry on the flour. Dust the top of the pastry with more flour, and roll out to approximately 8 x 8 inches (20 x 20 cm).
Mix together the mayonnaise, mustard, herbs, and pepper, and spread in an even layer over the pastry, from edge to edge. Evenly distribute the Comté cheese over the pastry, pressing down gently on the cheese to make sure it stays in place as the pastry is rolled.
To shape the Palmiers, start by tightly rolling one side of the pastry until you reach the center. Tightly roll the other side until you meet in the center. Wrap the pastry tightly in plastic wrap to hold the Palmier shape, and place on a flat surface in the freezer for 30 minutes.
Preheat the oven to 375˚F/ 190˚C. Slice the frozen Palmiers into ½-inch slices and place sliced-side down on the parchment lined baking sheet, leaving about 1-inch of space between each. Bake for about 18 minutes total, flipping the Palmiers over half way through baking. Cool on a wire rack before serving. Palmiers will keep for up to 1 week in an air tight container.
Comté stuffed Dates with Serrano ham and basil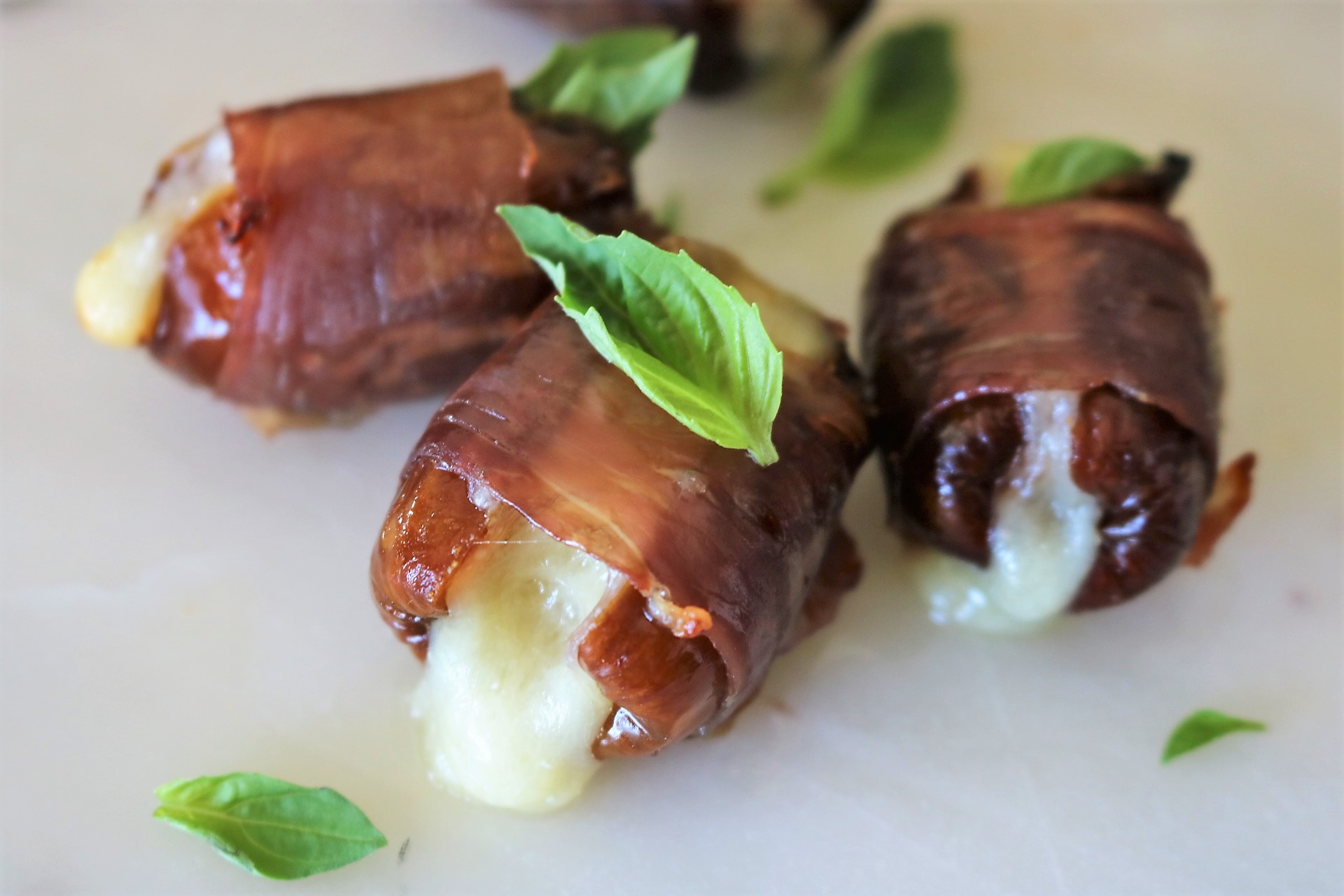 Author:
Erin Harris www.thecheesepoet.ca @thecheesepoet
Ingredients
2 ounces 15-24 month aged Comté cheese
12 whole Medjool dates
4-6 thin slices Serrano ham
2 tbsp honey
12 small fresh basil leaves
Instructions
Line a baking sheet with parchment paper and set aside. Preheat the oven to 400°F/205 °C.
Prepare the dates by making a slice across the date (don't cut all the way through!) and remove the pit. Prepare the Comté cheese by cutting the cheese into 12 even rectangular pieces, the right size to fit inside each date. Prepare the Serrano ham by cutting each slice into 2 or 3 strips, big enough to wrap each date.
Assemble the dates: stuff each date with one piece of Comté cheese, and wrap in a slice of Serrano ham. Place each date on the baking sheet and repeat until all dates are finished.
Brush each date with honey, and bake for approximately 6-8 minutes, or until the cheese has started to melt and the Serrano ham has begun to crisp. Keep a close eye as you don't want the cheese to melt out of the dates.
Stuff one basil leave into each date and serve while warm.
Mini Comté cheeseballs with pecans and cranberries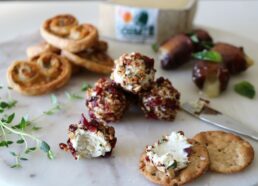 Author:
Erin Harris www.thecheesepoet.ca @thecheesepoet
Ingredients
5 ounces 15-24 month aged Comté cheese, shredded
8 ounces Cream cheese, softened
1 tsp Worcestershire sauce
1 tsp Dijon mustard
1 tbsp finely minced green onion
½ cup dried cranberries, finely chopped
½ cup toasted pecans, finely chopped
Instructions
In a stand mixer, or in a bowl with a handheld mixer, beat together the cream cheese, Comté cheese, Worcestershire, mustard, and green onion until just combined.
In a separate bowl, mix together the chopped pecans and dried cranberries and set aside.
Using a tablespoon or small scoop and your hands, form the cheese mixture into 2 dozen balls. Roll each cheese ball in the pecan and cranberry mixture, gently pressing down to ensure the coating sticks to each ball.
Place the finished cheese balls on a plate, wrap with plastic film, and place in the refrigerator for at least 1 hour or up to 1 day before serving. Serve cold with crackers, baguette, or apple slices.