Comté Cheesecake with French Onion Jam
Comté Cheesecake with French Onion Jam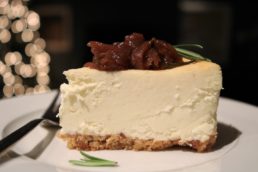 Author:
Erin Harris www.thecheesepoet.ca @thecheesepoet
Makes 1 9-inch cheesecake The flavors of mature Comté cheese are the star of the show in this savory cheesecake recipe, with a butter cracker and pecan crumb base, and heady red wine and herb-infused onion jam for topping. This recipe makes an impressive appetizer or plated cheese course – or, cut into smaller portions as a passed hors d'oeuvre. Serve with a garnish of bitter chicory or frisée greens, and a glass of Burgundy wine for the ultimate pairing.
Ingredients
For the Cheesecake:
1 cup butter cracker crumbs – 12-15 crackers (wheat or oat cracker crumbs work too!)
¼ cup butter, melted
¼ cup pecans
3 8-ounce packages cream cheese, room temperature
½ lb. 18-month Comté cheese, rind removed and shredded, room temperature
1 egg, room temperature
¼ cup 35% cream, room temperature
For the Onion Jam:
2 medium sweet white onions, peeled, ends removed, and thinly sliced
3 tbsp extra-virgin olive oil
½ cup red wine
2 bay leaves
1 tbsp fresh rosemary leaves, chopped
1 tbsp fresh thyme leaves, chopped
⅓ cup brown sugar
¼ cup red wine vinegar
½ tsp salt
½ tsp freshly ground black pepper
Instructions
For the Cheesecake:
Preheat the oven to 350ºF. Ensure all of the filling ingredients are at room temperature. For the crust, add the crackers and pecans to a food processor and blitz until you have a fine crumb. Mix together with the melted butter. Place all of the crumb base mixture into the bottom of a 9-inch spring form pan, and use your fingers to press the crumb into an even layer. Bake the crumb base for 8-10 minutes, or until lightly browned. Remove from the oven and cool completely.
Reduce the oven temperature to 300ºF. In a food processor, blend together the cream cheese, Comté, egg, and 35% cream until smooth. Pour this mixture onto the par-baked crumb crust and smooth the top. Place the cheesecake in the oven and bake for approximately 50-55 minutes, or until the cake has set but the center still has a slight jiggle.
Allow the cheesecake to cool completely before moving to the refrigerator. Refrigerate overnight, or for at least 12 hours before serving. Keep the cheesecake in the springform pan until you are ready to serve.
For the Onion Jam:
In a medium heavy-bottom pan or skillet, heat the olive oil over medium heat. Add the sliced onions and cook until soft and translucent, for 8-10 minutes, stirring occasionally.
Add the remaining ingredients and reduce the heat to low. Allow the mixture to simmer gently until the liquids reduce and become syrupy, about 30 minutes. The jam will thicken as it cools. Remove the bay leaves and discard. Taste the onion jam to check the seasoning – the jam should be both sweet and savory. Adjust the seasoning if necessary, and remove from the heat. Allow to cool completely before serving.