Comté and Almond Fig Cake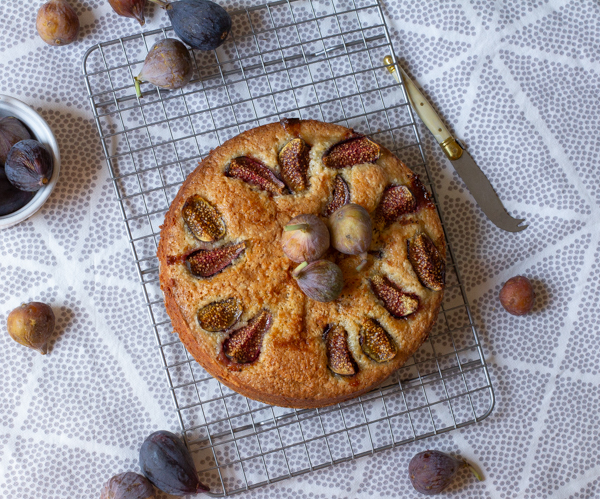 Comté and Almond Fig Cake
As unusual as it is to see grated cheese in a cake recipe, this is one of my favorite Comté dishes around. The cheese provides subtle nutty and rich caramel notes that you would ordinarily only get by caramelizing sugar. Together with the almonds and figs, you have the perfect dessert, coffee, or breakfast cake. Bonus—it's super easy to make. Fig color morphs during baking, so just grab whatever figs look good to you when selecting. If feeling especially decadent, you can use up to 4 ounces of Comté for a much richer cake. Note the recipe asks for almond flour, not meal.
Ingredients
135 grams almond flour (4.75 ounces)
200 grams sugar (7 ounces)
¼ teaspoon salt
½ teaspoon almond extract
3 large eggs
86 grams unsalted butter, room temperature (3 ounces)
86 grams Comté, grated, at room temperature (3 ounces)
¼ teaspoon baking powder
45 grams all-purpose flour (1.5 ounces)
6 small figs, tops cut out and quartered vertically
Instructions
Preheat the oven to 350°F. Butter an 8-inch cake pan and line the bottom of the round with a circle of parchment.
Put the almond flour, sugar, salt, and extract in a food processor and pulse until well combined. (If you don't have a food processor, use a whisk and vigorously stir the ingredients together in a medium-sized bowl.) Add the eggs and butter, and pulse again until the mixture is smooth and a touch fluffy. Add the Comté, baking powder, and flour and pulse until flour is no longer visible.
Scrape the batter into the cake pan with a spatula and tap the filled pan against the counter to help even out and get rid of any air bubbles.
Bake the cake for 40 minutes in the center of the oven. After 40 minutes, take the cake from the oven and gently place the sliced fig quarters, face up, on top. Return the cake to the oven and bake for 25 to 40 minutes more, or until the top of the cake gives when pressed and when inserted into the center, a toothpick comes out clean. Keep in mind that this is a rich, dense cake and may take longer to bake than you think. Set aside to cool.
Using a thin paring knife, trace the inside wall of the pan to un-mold the cake. Remove the parchment, and flip the cake over to serve fig-side up.