Comté Summer Squash Pizza
Comté Summer Squash Pizza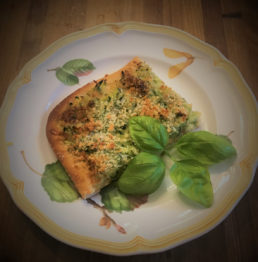 Serves:
1 large pizza, 4 to 8 servings
Ingredients
1 lb store bought pizza dough
5 zucchini
1½ teaspoons sea salt
6 oz., approximately 2 cups, grated Comté cheese
1 tablespoon olive oil, plus more for fingertips
2 to 3 tablespoons panko or breadcrumbs
Instructions
Pre-heat oven to 500°F and place rack in the center of the oven.
Grate the zucchini with a hand grater or a food processor. In a large bowl, toss together the zucchini and salt. Place aside and let stand for 20 to 30 minutes to remove water from the zucchini.
Drain the zucchini in a colander. Squeeze out as much water as possible, a fistful at a time. Back in the large bowl toss the zucchini with the shredded Comté, breaking up any clumps of zucchini. Salt and pepper to taste.
Brush a 13×18-inch rimmed half-sheet pan with olive oil. Stretch the dough across the bottom of the pan.
Spread the zucchini mixture over the dough, going all the way to the edges of the pan and sprinkle with the bread crumbs.
Bake for 20 to 25 minutes, until the topping is golden. Remove from oven, cut into squares and serve.