Comté & Walnut Biscotti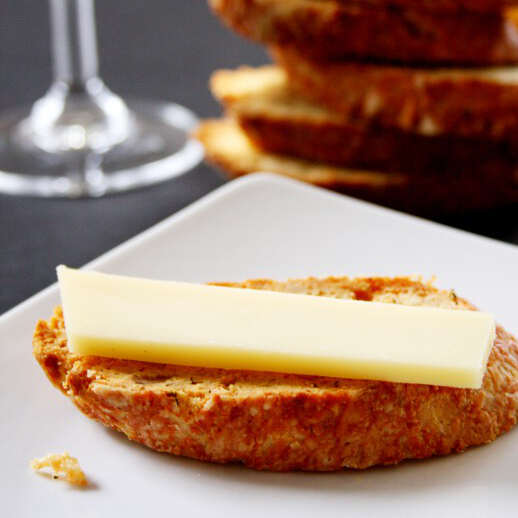 Comté & Walnut Biscotti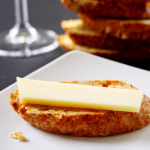 Flecked with fresh thyme and toasted walnuts, these Comté biscotti, adapted from Mark Bittman's savory biscotti recipe (The New York Times), highlight Comté's nutty aromas. Serve them alone or with slices of Comté for double the flavor. The biscotti pair wonderfully with both white and red wine, and are also delicious dipped into soups.
Ingredients
4 ounces Comté, grated on small holes of box grater (about 1 cup, packed), divided, plus Comté slices for serving (optional)
2 eggs
1 cup plus 2 tablespoons all-purpose flour, plus more for dusting
½ teaspoon baking powder
1 teaspoon Kosher salt
½ teaspoon sugar
Pinch cayenne pepper
1 teaspoon minced fresh thyme
⅓ cup coarsely chopped toasted walnuts
1 tablespoon heavy cream
Instructions
Preheat the oven to 350°F. Line a baking sheet with parchment paper.
In a food processor, combine 1 cup of the Comté and the eggs. Process to a smooth paste. Add the flour, baking powder, salt, sugar, cayenne and thyme. Pulse just until combined (don't overwork the dough—it should look crumbly). Add the walnuts and pulse to incorporate.
Transfer dough to a lightly floured surface. Gently knead dough until it holds together. Form dough into a 10-inch log. Place the log on the baking sheet. Brush the top and sides with cream. Sprinkle the remaining Comté on the top and sides of the log, rolling it in the cheese to adhere.
Bake 20-25 minutes, or until the top is light golden and firm to the touch. Let cool 10 minutes on baking sheet. Cut the log on the diagonal into half-inch slices. Line the biscotti (flat side down) on a clean parchment-lined baking sheet. Bake until crisp, 15 minutes. Flip the biscotti and bake until crisp on the other side, 10-15 minutes longer. Transfer to a wire rack and cool completely. Serve alone or topped with slices of Comté.