Wine Braised Chicken with Comté & Cream
Wine Braised Chicken with Comté & Cream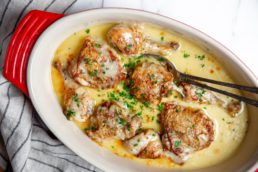 Author:
Jean-Louis Charbonnel
This recipe comes from Jean-Louis Charbonnel, Comté dairy farmer. Chicken legs are braised in Jura wine with a hearty splash of cream and plenty of Comté. The surprisingly light cheese sauce is the perfect match for the ultra tender chicken. Serve the dish with rice, mashed potatoes or plenty of crusty bread for soaking up the sauce.
Ingredients
4 bone-in chicken thighs and 4 chicken drumsticks
Salt and freshly ground black pepper
1 tablespoon butter
1 cup dry white wine (preferably Savagnin)
¾ cup chicken broth
2¼ cups grated Comté, divided
1 cup heavy cream
Chopped parsley, for serving (optional)
Instructions
Season the chicken legs with salt and pepper. Melt the butter in a large straight-sided skillet with a lid (or a Dutch oven) over medium-high heat.
Add the chicken pieces, skin side down, and cook until browned, about 8-10 minutes. Turn the chicken over and pour in the wine. Bring to a boil, and cook until the wine is reduced by half, about 5 minutes.
Pour in the chicken broth and bring to a simmer. Cover and cook on low until the chicken is very tender (a knife should slide easily through the meat), about 25-30 minutes.
Transfer the chicken to a plate. Pour the heavy cream into the skillet with the pan juices and bring to a simmer. Cook until reduced by about half, about 10 minutes. Remove the skillet from the heat and slowly stir in 2 cups of the cheese. Season with salt and pepper.
Return the chicken to the skillet (or transfer it to a baking dish and add the sauce).
Sprinkle the remaining Comté over top. If you'd like, broil the chicken until the cheese is melted and the top is browned in spots, about 2 minutes. Sprinkle with parsley before serving, if you wish.
Notes
Photo credit: Nicki Sizemore