Roasted Pear & Arugula Salad with Shaved Comté & Walnuts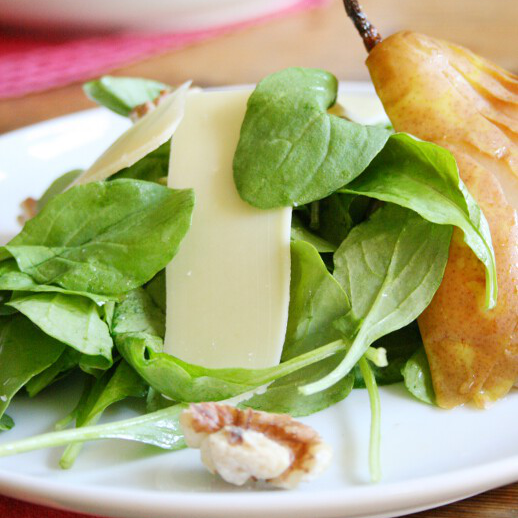 Roasted Pear & Arugula Salad with Shaved Comté & Walnuts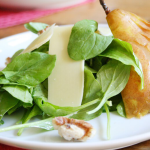 This easy but elegant salad has the ultimate balance of flavors: sweet honey-roasted pears, peppery arugula and nutty Comté, all tossed in a lively vinaigrette. An older Comté works best here, providing a delicious contrast to the aromatic pears.
Ingredients
6 5-inch rosemary sprigs
1 tablespoon plus 1 teaspoon honey, divided
1 tablespoon fresh lemon juice
3 firm but ripe Bartlett pears
2 tablespoons Champagne vinegar
1 teaspoon minced shallots
1 teaspoon Dijon mustard
Salt and pepper
3 tablespoons good quality extra virgin olive oil
6 ounces baby arugula (about 10 cups)
3-4 ounces Comté (preferably 12-24 month), shaved with vegetable peeler
½ cup lightly toasted walnut pieces
Instructions
Preheat oven to 400˚F. Line large baking sheet with parchment paper. Line rosemary sprigs on top of parchment.
In small bowl, whisk 1 tablespoon honey with lemon juice. Cut pears in half lengthwise. Using melon baller or paring knife, cut out and discard core of each pear half. Brush pears on both sides with honey mixture. Place each, cut side down, on top of a rosemary sprig on baking sheet. Bake 12-15 minutes, or until pears are tender. Let cool.
Meanwhile, make vinaigrette. Whisk together Champagne vinegar, 1 teaspoon honey, shallots, Dijon and pinch of salt and pepper. Slowly drizzle in extra virgin olive oil while whisking. Taste and season with additional salt and pepper if needed.
Cut ¼-inch slits lengthwise in each pear half, keeping stem end intact. Press down lightly to form fan shape. In large bowl, toss arugula with just enough vinaigrette to coat (you may have extra). Season with salt and pepper. Place a large handful of arugula on each serving plate. Arrange a pear half on each bed of greens. Divide Comté shavings and walnut pieces over top.