Mushroom-Comté Scalloped Potatoes
Mushroom-Comté Scalloped Potatoes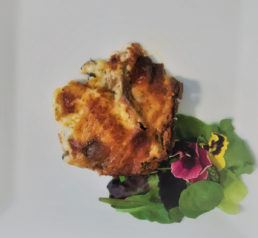 Ingredients
6 tablespoons butter, divided
½ pound of button, portobello and shitake fresh mushrooms, sliced
5 tablespoons all-purpose flour
3 cups half-and-half cream
1-1/2 teaspoons salt
1 teaspoon pepper
6 oz. Comté cheese, about 2 cups shredded
2 pounds red potatoes, thinly sliced
½ teaspoon paprika
3 tablespoons minced rosemary, preferably fresh
Instructions
Preheat oven to 350°. In a large skillet, heat 1 tablespoon butter over medium-high heat. Add mushrooms; cook and stir until tender. Remove ingredients from pan.
In the same pan, melt remaining butter over medium heat. Stir in flour until smooth and gradually whisk in the cream. Bring to a boil, stirring constantly; cook and stir until thickened, about 2 minutes. Reduce heat to medium-low. Stir in rosemary, salt and pepper. Gradually add cheese, stirring until melted. Remove from heat.
Arrange potatoes in an even layer in a greased 13x9-in. baking dish. Top with mushrooms and sauce mixture; sprinkle with paprika.
Cover with tented foil. Bake, 40 minutes. Bake, uncovered, until golden brown and bubbly, 20-25 minutes longer. Let stand 15 minutes before serving.