Comté Stuffed Apple Fritters
Comté Stuffed Apple Fritters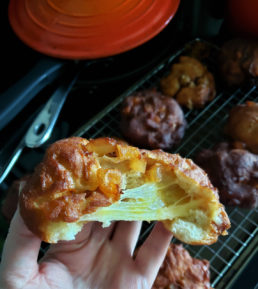 How do you make a freshly fried apple fritter even better? By stuffing it full of melting, oozy Comté cheese! This decadent cheese filled doughnut is not for the faint of heart; rich yeasted dough, sweet cinnamon apples, and savory Comté cheese create a sublime pairing, and will surely become a favorite treat for the cheese lover in your life.
Ingredients
Dough:
1 ½ tbsp active dry yeast
½ cup warm water
2 cups all-purpose flour plus more for dusting
¼ cup plus 2 tsp granulated sugar
¼ tsp baking powder
¼ tsp nutmeg
1 tsp salt
2 tbsp shortening or lard
1 large egg

Filling:
2 medium tart apples (peeled, cored, and chopped into ½ inch pieces)
¼ cup granulated sugar
2 tsp freshly squeezed lemon juice
1 tbsp cinnamon
1 tbsp all-purpose flour
12 ½-inch cubes of 15 month aged Comté cheese

Glaze:
2 cups icing sugar
¼ tsp vanilla
¼ tsp nutmeg
⅓ cup water

Plus 2 quarts peanut, sunflower, canola, or vegetable oil for frying
Instructions
For the dough: In a large bowl or the bowl of a stand mixer fitted with the paddle attachment, add the yeast to the ½ cup warm water. Add 2 tsp of sugar, stir and let stand 5 minutes. Meanwhile, in a large bowl, whisk together the flour, ¼ cup sugar, baking powder, nutmeg and salt. Set aside.
When the yeast has bloomed, add the shortening and egg, and mix with the paddle attachment on low speed for 1 minute, to break up the shortening. Add ⅓ of the flour mixture and mix until combined. Add another ⅓ of the flour mixture and again, mix until combined. Switch to the dough hook and add the remaining flour mixture. Knead with the hook until all the flour is incorporated. If needed, add additional flour in 1 tbsp increments, until the dough comes together, and clears the bottom of the bowl. Knead on medium for about 2 minutes more. The dough should be smooth and still a bit moist, but not sticky.
Place the dough in a lightly oiled bowl, cover with plastic wrap and set-aside to rise until doubled in size (about 1 hour).
Meanwhile, make the apple filling. Place the diced apples, cinnamon, sugar and lemon juice into a skillet over medium high heat. Cook, stirring often, until all the liquid has completely evaporated and the apples are softened, about 7 minutes. Remove to a bowl to cool completely before using. If the apples are too wet, it will be difficult to form the doughnuts – make sure to drain away any excess liquid.
When the dough has finished its first rise, remove to a lightly floured surface and roll into a 10-inch x 10-inch square. Sprinkle the apples over one half of the dough, and sprinkle with 1 tbsp flour. Fold the empty side of the dough over the apples and gently press down. Using a sharp knife or a bench scraper, cut the dough into 1-inch wide strips from top to bottom. Repeat cutting 1-inch strips from side to side, so you end up with large chunks of dough, mixed with bits of apple.
Using floured hands, divide the dough into 12 equal portions, and place the bundles onto a parchment lined or floured baking sheet, leaving a couple of inches of room around each. Place a cube of Comté cheese onto each fritter, and gather the dough and apples around each cube, ensuring the cheese is completely sealed inside the dough. This step is crucial to ensuring the cheese does not escape from the center of the fritter as they are fried. Cover with plastic wrap and set-aside to rise until doubled again, about 30-45 minutes.
Meanwhile, prepare the glaze. Add the icing sugar, vanilla, nutmeg, and water to a medium bowl, and whisk until smooth. Set aside.
When the dough is about ready to cook, heat oil in a deep fryer or deep heavy bottomed pot to 325°f. Check to make sure the cheese is still fully encased in dough prior to frying. Fry each donut until deep golden on the underside (1½ - 2 minutes), flip over and fry the other side. Using a slotted spoon, carefully remove to a cooling rack placed over a baking sheet. While still quite warm, dip into prepared glaze shake off any excess, and return to cooling rack to cool completely. *note: before moving on from the first fritter, check the inside to ensure the dough has completely cooked and the cheese is melted. If necessary, increase oil temperature slightly, and fry 30 seconds longer.)
Notes
These fritters are best served warm, while the cheese is still melted. If necessary, the fritters can be gently warmed for 10 seconds in the microwave!