Kale, Fennel & Comté Salad with Comté Tuiles
Kale, Fennel & Comté Salad with Comté Tuiles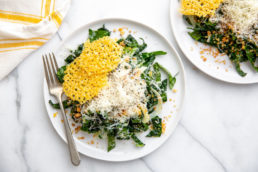 Author:
Nicki Sizemore @FromScratchFast
This gorgeous salad is all about the contrast of flavors and textures. It gets pleasant bitterness from kale, sweetness from fennel, crunch from toasted breadcrumbs and creaminess from Comté. Serve it as a first course with Comté tuiles, or turn it into a main course by adding shredded chicken.
Ingredients
2 tablespoons fresh lemon juice
1 garlic clove, crushed and peeled
5 tablespoons good quality extra virgin olive oil, divided
⅓ cup panko breadcrumbs
Salt and freshly ground black pepper
2 tablespoons coarsely chopped toasted walnuts, pecans or hazelnuts
8 ounces (about 1 small bunch or ½ big bunch) kale, center ribs discarded, leaves sliced crosswise into ½-inch ribbons
1 small fennel bulb, shaved on mandoline or very thinly sliced
2 ounces Comté cheese
Comté Tuiles for serving (optional)
Instructions
In a small bowl, combine the lemon juice and garlic. Let sit while you toast the breadcrumbs (this will infuse the lemon juice with garlic flavor).
In a small skillet, heat 1 tablespoon of the olive oil over medium heat. Add the panko breadcrumbs and toss to coat. Season with salt and pepper. Cook, stirring often, until the breadcrumbs are golden and toasted, about 2-3 minutes. Add the chopped nuts and set aside.
Remove the garlic clove from the lemon juice. Whisk the remaining 4 tablespoons of olive oil into the lemon juice, and season with salt and pepper.
Slide the kale and fennel into a large bowl, and season with salt and pepper. Pour in enough dressing to coat (you won't need it all). Toss well (I prefer to use my hands here, to really coat the vegetables). Let sit 5 minutes. Give the salad a taste and add more dressing and/or salt and pepper, if needed.
Divide the salad among plates and sprinkle the breadcrumb mixture over top. Using a microplane or fine cheese grater, grate the Comté over each salad. Arrange the Comté Tuiles alongside, if desired.

Comté Tuiles
These crispy Comté tuiles are a cinch to make and have a delicious crispy texture. Serve them on their own as an appetizer or as a garnish on salads. The recipe makes 12 tuiles.
Four ounces Comté, shredded on the small holes of a box grater
Preheat the oven to 300˚F. Line a large baking sheet with parchment paper.
Divide the Comté into 12 piles on the prepared baking sheet, leaving at least 1-2 inches between each (use two baking sheets if yours isn't large enough). Using your fingers, pat the cheese into thin, 2-inch circles.
Bake for 20 minutes, until the tuiles are golden and crisp. Let them cool completely before serving.