French Lentil Salad with Comté
French Lentil Salad with Comté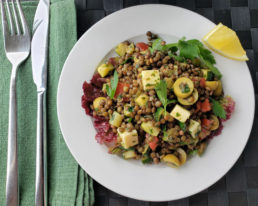 Author:
Erin Harris www.thecheesepoet.ca @thecheesepoet
French le Puy lentils are praised for their unique peppery flavor and ability to hold their shape once cooked, and make an excellent accompaniment to Comté cheese in this hearty summertime salad. Anchovy stuffed green olives add a refreshing briny saltiness that contrasts with the sweetness of the aged Comté. Take this salad on your next picnic and don't forget to pack something refreshing to wash it down!
Ingredients
6 ounces dry le Puy Lentils (French green lentils) picked through for stones
2 cups vegetable or chicken broth
1 small zucchini, washed and stem end removed
1 tomato, washed, seeded, and stem removed
10-15 anchovy stuffed green olives (or plain green olives), drained
3 ounces 12-18 month aged Comté cheese
¼ cup fresh parsley leaves
2 tablespoons fresh squeezed lemon juice
¼ cup Olive oil, divided
Salt and black pepper to taste
Instructions
In a small pot over medium-high heat, bring the broth to a boil and add the lentils. Reduce to a simmer and cook for 20 minutes, with a lid half-covering the pot. You can use water instead of broth, but your salad will not be as rich and earthy in taste.
After 20 minutes, strain the lentils discarding any residual broth. Set aside and allow the lentils to cool completely to room temperature.
Prepare the zucchini by cutting into a small dice. In a sauté pan over medium-high heat, add 1 tablespoon of the olive oil to the pan. Once the pan is hot, add the zucchini and quickly sauté for 2-3 minutes, until just cooked through and lightly browned. Set aside to cool.
Prepare the tomato by cutting into a small dice, and set aside. Slice each olive into 2-3 slices each, and set aside with the tomato.
Remove the rind from the Comté and discard. Cut the Comté into small cubes similar to the size of the zucchini and tomato, and set aside.
In a small food processor or blender, add the parsley, lemon juice, remaining olive oil, and salt and pepper to taste. Blend until you have a smooth vinaigrette.
In a medium mixing bowl, combine all of the ingredients and toss together thoroughly. Taste the salad and if necessary, adjust the salt and pepper seasoning to suit your tastes. Serve at room temperature or cold, with a slice of lemon garnish.