Comté & Rice Salad with Chicken, Apples and Walnuts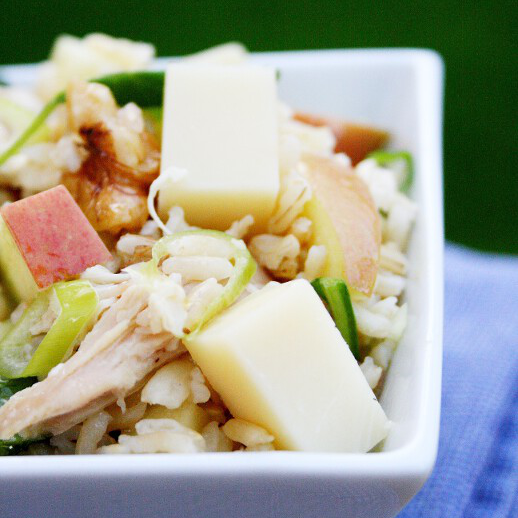 Comté & Rice Salad with Chicken, Apples and Walnuts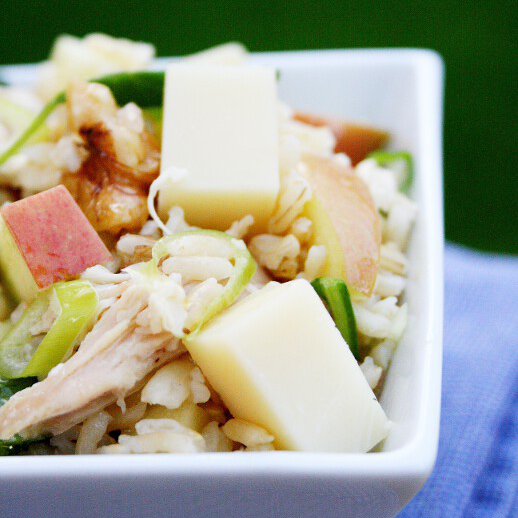 Cubes of Comté get tossed with apples, chicken, toasted walnuts, rice and lemon vinaigrette for a mouthwatering but easy-to-make salad that is perfect for your next picnic or potluck.
Ingredients
1 garlic clove, peeled and smashed
⅓ cup fresh lemon juice (about 1½ lemons)
3 cups cooked brown or white rice
2 cups shredded rotisserie chicken (about ½ chicken)
8 ounces Comté, cut into ½-inch cubes
⅓ cup thinly sliced celery
1 handful baby spinach leaves, torn into bite-sized pieces
1 crisp apple, cut into ½-inch cubes
¼ cup thinly sliced green onions (about 2 onions)
⅓ cup toasted walnuts, coarsely chopped
⅓ cup extra virgin olive oil
Salt and freshly ground black pepper
Instructions
In a small bowl, combine the smashed garlic clove with the lemon juice and let sit while mixing the rest of the ingredients.
In a large bowl, toss together the rice, chicken, Comté, celery, spinach, apples, green onions and walnuts.
Remove the garlic from the lemon juice (discard the garlic). Whisk in the olive oil and pour over the salad. Toss well and season with salt and pepper to taste. Let the salad sit at room temperature for 10 minutes to 1 hour before serving.
Bon appétit!