Comté French Onion Soup
Comté French Onion Soup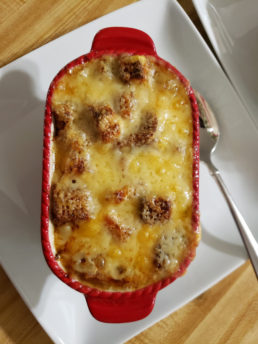 Ingredients
2 Pounds of Vidalia Onions or other sweet onions, peeled and thinly sliced
3 Tablespoon Butter
2 Cloves Garlic, Minced
2 Tablespoons Flour (I used Wondra as it makes your soup silky)
½ Cup Dry White Wine (I used Sauvignon Blanc) plus some for caramelizing the onions
32 Ounces Beef Stock
1 Teaspoon Worcestershire Sauce
1 Bay Leaf
3 Sprigs Fresh Thyme (or 1 teaspoon dried thyme)
Baguette or Croutons (I used homemade seasoned croutons)
8 Ounces Comté AOP, grated or sliced (I sliced the Comté AOP thin so that I could drape it over the sides of the bowls for beauty)
Instructions
Caramelize the onions. I have found that to properly caramelize onions, you must pay attention to the onions. To do this, melt the butter in a heavy Dutch onion.
Toss the sliced onions in the melted butter and cook on low-medium heat. Toss them every ten minutes and if they start to burn, add a splash of wine and scrape the bits off the bottom of the pan. This will take between 30 minutes and an hour to cook them to the right finish. To help pass the time, drink a glass of wine as you cook and splash.
Add garlic and sprinkle flour evenly over the onions. Stir and cook for about five minutes to give flour taste time to cook off.
Add beef stock, wine, Worcestershire sauce, bay leaf and thyme.
Simmer for a few minutes.
As your soup simmers, heat oven on broil and set rack on second level from top of oven. (Use oven-proof bowls and if you do not have oven-proof bowls, you can finish in microwave, but you won't get the golden finish on your Comté AOP).
Place soup in bowls and top with baguette or croutons. Top with Comté AOP.
Broil until Comté AOP is golden. About 5 minutes.
Serve immediately.
Notes
Photo credit: Marcella Wright