Comté Panzanella Salad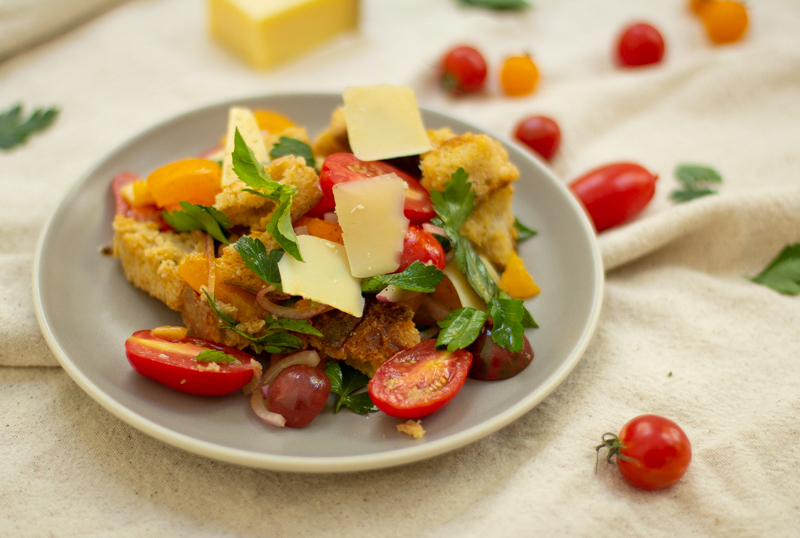 Comté Panzanella Salad
Transforming stale bread and ripe tomatoes into a salad that's as easy to make as it is delicious, panzanella is top on my list of summer dishes. This one is a little different though. Instead of using a fresh Italian cheese like mozzarella, the recipe calls for Comté. When you toss thin slices of the cheese in at the very end, the Comté's sweet, buttery, nutty notes contrast with the salad's lively vinaigrette, spicy red onions, and fresh herbs. Make half of this recipe for a refreshing lunch for two, or divide on to four plates for a side dish.
Ingredients
6 ounces stale, rustic bread like a rustic baguette, porridge loaf, or walnut-wheat
1 clove garlic, peeled
4½ tablespoon extra virgin olive oil, divided
½ teaspoon kosher salt, plus more to taste
14 ounces tomatoes, mixed in color and shape
2½ tablespoons red wine vinegar, balsamic or sherry also works
⅛ teaspoon freshly ground pepper
2 ounces red onion, very thinly sliced
5 ounces Comté
⅛ cup basil leaves, torn
⅛ cup parsley leaves, packed
Instructions
Trim any dangerously sharp pieces of crust from your bread. Smash the garlic with the back of a chef's knife and rub the garlic gently over your bread. Set aside the garlic for your later use. Tear the bread into roughly one-inch chunks. Add the bread, 1 tablespoon olive oil, and ⅛ teaspoon of salt to a medium-sized sauté pan (do not yet heat). Massage the oil and salt into the bread with your hands, then toast the bread over medium heat until it turns golden, around 5 to 10 minutes. Let cool.
Cut tomatoes into bite-sized pieces. In a medium-sized mixing bowl add the tomatoes, vinegar, remaining olive oil, pepper, red onion, and bread. Toss until all the bread is shiny and evenly coated in the oil mixture. Leave to sit for twenty minutes so the bread absorbs the tomato juices and olive oil. While the bread is soaking, use a vegetable peeler to shave thin slices of Comté, or thinly slice the cheese with a knife. Discard the rind.
Add the basil, parsley, and three-quarters of the cheese to the bowl. Use a spatula to gently mix everything together. Divide between plates and top with the remaining cheese.