Comté Dill Dutch Baby
Comté Dill Dutch Baby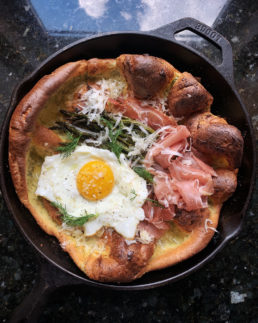 This savory, cheesy baked pancake makes for an indulgent spring brunch. Fresh dill teases out the herbaceous notes in the Comté, while prosciutto and asparagus make for a hearty, wholesome breakfast. It all comes together in around a half hour and looks gorgeous. Feel free to swap out the dill and asparagus for other herbs and veggies as the seasons change! This one is endlessly adaptable.
Ingredients
3 eggs, room temp
½ cup bread or AP flour
½ cup milk, room temp
2 teaspoons sugar
Pinch salt
Pinch nutmeg
1 tablespoon chopped dill leaves
3 tablespoons butter
½ cup shredded Comté (2oz),
Roasted asparagus
2 slices Prosciutto
1 fried egg
Salt and pepper
Extra dill (to taste)
Instructions
Preheat oven to 425F.
In a blender, add eggs, flour, milk, sugar, salt, nutmeg, and the dill. Pulse until just combined.
Add butter to a 10" skillet, then put it in the oven for a minute or two. You want it just melted, NOT browned.
Once it's melted, swirl the butter around the pan, making sure to coat the sides of the pan. Pour in the batter.
Bake in the oven for 15 minutes. Reduce heat to 300° and bake for five more minutes, or until it's puffed and browned.
Remove from the oven, and immediately sprinkle the cheese over the Dutch baby. Top with asparagus, prosciutto, and a fried egg. Garnish with dill, black pepper, and more Comté.
Notes
Slice like a pizza, and serve immediately.