Comté and Wild Blueberry Cobbler
Comté and Wild Blueberry Cobbler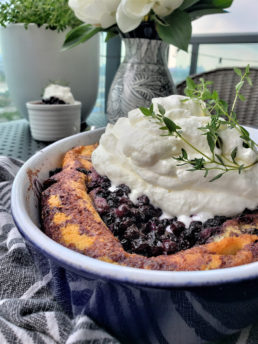 Author:
Erin Harris www.thecheesepoet.ca @thecheesepoet
Comté cheese offers a bouquet of sweet and savory flavors and aromas, which makes it a versatile cheese for use in everything from appetizers to main course dishes, and even desserts! The addition of Comté in this wild blueberry cobbler heightens the flavors of browned butter, and provides a richness you might find in the finest of French pastries. While the fresh thyme leaves are an optional ingredient, they add another layer of flavor that will leave you swooning in culinary delight. Serve this cobbler while still warm with a dollop of lightly whipped cream.
Ingredients
½ cup unsalted butter
1 cup sugar, divided in half
4 cups wild blueberries, fresh or frozen
3 sprigs fresh thyme leaves, stems discarded (optional)
1 tbsp lemon juice
1 cup all-purpose flour
1 tbsp baking powder
1 cup whole milk
¼ tsp salt
4 ounces 12-month aged Comté cheese, rind removed and diced
1 cup whipping cream (35% cream)
2 heaping tbsp icing sugar
Instructions
Preheat the oven to 375°F. Melt the butter in a 11X13-inch baking dish in the oven until the butter is browned – about 5 minutes. Keep a close eye to make sure the butter doesn't burn.
Bring the blueberries, ½ cup of sugar, lemon juice, and thyme leaves to a boil in a medium sauce pan for 2-3 minutes. Remove from the heat and set aside.
In a mixing bowl, stir together the flour, ½ cup of sugar, baking powder and salt. Add the milk and mix until fully combined. Stir in the Comté cheese. Distribute the batter evenly into the baking dish on top of the hot butter. Do not stir.
Pour the hot blueberry mixture with all of the juice over the cobbler batter, distributing the blueberries evenly around the dish. Do not stir.
Bake for about 40 minutes, or until the top of the cobbler is golden brown. Remove from the oven and cool for about 15 minutes before serving.
Using an electric whisk, beat together the whipping cream and icing sugar until fluffy.
Serve while still warm, and top with a scoop of whipped cream. Enjoy!