Comté and Potato Stuffed Pierogi
Comté and Potato Stuffed Pierogi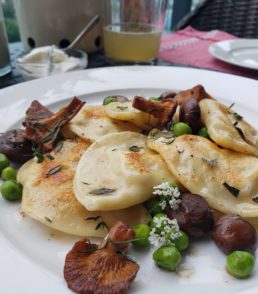 Author:
Erin Harris www.thecheesepoet.ca @thecheesepoet
This recipe is the perfect weekend or group project that will give you an abundance of Comté stuffed potato pierogi to enjoy right away, or to freeze for later. Although potato pierogi are equally delicious tossed with melted butter, caramelized onions, and crispy bacon (the more traditional approach to serving pierogi) - the wild mushrooms, summer peas, and fresh herbs in this dish shine a light on the layers of flavors Comté cheese brings to the table, and creates a memorable pairing. This recipe can be cut in half, but I recommend making the full recipe so that you have extra pierogi for the freezer!
Ingredients
For the filling:
7 ounces Comté cheese, rind removed and grated
2 lbs russet potatoes, peeled and quartered
1 tsp kosher salt
Freshly ground black pepper
½ cup sour cream
For the dough:
4 cups all-purpose flour
2 tbsp kosher salt
1 scant cup warm water
¼ cup sour cream
2 eggs
For the garnishes:
2 tbsp olive oil
¼ cup salted butter
2 cups wild mushrooms, cleaned and trimmed
½ cup summer peas, fresh or frozen
2 tbsp mixed herbs like dill, thyme, parsley, and chives, chopped
Salt and pepper to taste
Sour cream for the table
Instructions
For the filling:
Place the potatoes in a pot and bring to a boil. Reduce the heat to low and simmer for 25 minutes or until fully cooked through and easily pierced with a knife. Drain the potatoes well and cool for 5 minutes. Pass the potatoes through a ricer or mash until no lumps remain. Stir in the salt, black pepper, sour cream, and Comté cheese until combined. Set aside partially covered and cool completely. Note: this step can be done the day before and refrigerated overnight.
For the dough:
In a large mixing bowl, whisk together the flour and salt. In a separate bowl whisk together the warm water, sour cream, and eggs until blended. Pour the wet ingredients into the dry and mix together with a spoon or your hands until the dough comes together. Once you have formed a ball of dough, turn it out onto a clean work surface and knead the dough for 5-7 minutes until smooth. If the dough is too wet, add 1 tablespoon of flour at a time until your dough firms up. If your dough is a touch dry, add a small amount of water until it becomes smooth. Wrap the dough in plastic and set aside for 30 minutes.
To assemble the Pierogi:
Divide the dough in half and cover one piece with plastic wrap. Dust your clean work space with flour and roll the other piece out, until about ⅛th of an inch thick. Using a 3" round cookie cutter (or the rim of a plastic cup), cut circles of dough closely together, and move any scraps of dough to the remaining piece of dough for later. Place about ½ tablespoon of potato mixture in the middle of each dough round.
To form the pierogi, tightly pinch together the two edges around the potato filling, forming a half moon shape. It is important to ensure no filling is spilling out of the pierogi, and the edges are pinched together tightly to form a seal. You can crimp or twist the edges to form a decorative edge if you like. Repeat with the remaining dough and filling until all of the pierogi are formed. You can now cook the pierogi from fresh, or freeze for future meals. To freeze your pierogi, line them on a floured baking sheet in a single layer, not touching, and transfer to a plastic freezer bag once fully frozen.
To cook the pierogi, bring a medium pot of water to a boil and add 1 tbsp of salt to the water. Add the fresh or frozen pierogi to the pot – don't overcrowd the pot – and boil for 2-3 minutes (longer if frozen) until the pierogi are fully cooked through and tender. Remove from the pot with a slotted spoon and place on paper towel until you are ready to serve. Repeat until you have enough Pierogi for 5 or 6 per person.
To finish the dish:
In a large sauté pan over high heat, melt the butter and olive oil together and add the mushrooms. Sautee on high for 5-7 minutes or until cooked through. Add the peas and herbs and reduce the heat to medium. Add a splash of water to help cook the peas through. Season with salt and pepper if needed. Add the cooked pierogi to the pan and toss together. Serve the pierogi with sour cream and enjoy!