Butternut Squash Gratin with Comté, Roasted Garlic & Hazelnuts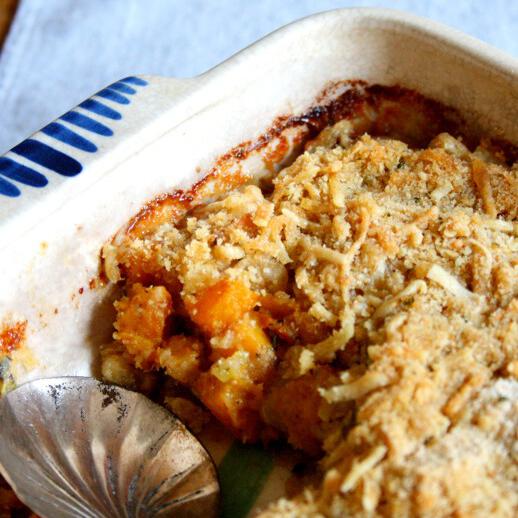 Butternut Squash Gratin with Comté, Roasted Garlic & Hazelnuts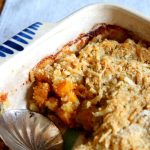 In this recipe, roasted butternut squash gets combined with melted Comté, crunchy hazelnuts and crispy breadcrumbs for a gorgeous gratin. It pairs particularly well with roasted meats but is also a delicious a vegetarian main course with a salad.
Ingredients
1 2½-pound butternut squash, peeled, seeded and cut into ½-inch cubes
8 garlic cloves, unpeeled
1 ½ teaspoons balsamic vinegar
2 tablespoons extra virgin olive oil
Salt and pepper
½ cup toasted and peeled hazelnuts, coarsely chopped
2 tablespoons butter
2 large leeks, white and light green parts only, thinly sliced
2 teaspoons chopped fresh sage
4 ounces Comté (about 1 cup, packed)
½ cup heavy cream
¾ cup dried breadcrumbs
Instructions
Preheat oven to 400˚F.
On a large baking sheet, combine squash, garlic cloves, balsamic vinegar and olive oil; season with salt and pepper and toss to combine. Spread in single layer and roast 25-30 minutes, stirring occasionally, until squash is tender. Once cool enough to handle, squeeze garlic cloves out of skins (discard skins) and toss with squash. Stir in hazelnuts. Taste and season with additional salt and pepper if needed.
Meanwhile, melt butter in medium skillet over medium-low heat. Add leeks with pinch salt and pepper. Sauté leeks, stirring occasionally, until tender but not browned, 8-10 minutes. Stir in sage.
Oil an 8x8-inch baking dish. Spread half of leek mixture on bottom of dish. Spread half of squash mixture over top, followed by half of Comté. Top with remaining leeks and squash. Pour cream over. Cover tightly and bake 30 minutes.
Mix remaining Comté with breadcrumbs. Sprinkle evenly over gratin. Bake uncovered until top is golden brown, 8-10 minutes.