Comté Risotto with Asparagus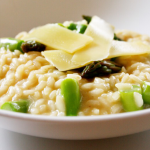 4 cups chicken or vegetable broth
1 bunch (1 lb) asparagus (woody ends discarded), cut into 1-inch pieces
2 tablespoons butter
1 large shallot, finely diced (1/3 cup diced)
2 garlic cloves, minced
Salt and freshly ground black pepper
1½ cup Arborio or Carnaroli rice
¾ cup dry white wine
4 ounces Comté, cut into ¼-inch dice, plus additional Comté for shaving as garnish
Place broth and 2 cups water in a saucepan; bring to a boil. Prepare an ice bath. Add the asparagus to the boiling broth and cook until crisp-tender, 1-3 minutes. Using a slotted spoon or spider, transfer asparagus to the ice bath to stop the cooking (reserve broth). Drain asparagus and line on a towel to dry. Reduce broth to a simmer.
Melt butter in a medium, heavy-bottomed saucepan over medium heat. Add the shallots and garlic with a pinch of salt and pepper. Cook, stirring, until softened, 2-3 minutes. Add the rice and cook, stirring, 1-2 minutes. Pour in wine and stir until most of liquid is absorbed. Add 1-2 ladlefuls of broth. Simmer, stirring often, until most of the liquid is absorbed. Keep adding broth by the ladleful, stirring often, until the rice is creamy and tender (it should still have a bite). If you run out of broth before the rice is cooked, add more water as needed.
Pull the pan off the heat and add the diced Comté. Stir until the Comté starts to melt. Fold in the asparagus. Taste and season with salt as needed. Spoon the risotto into shallow bowls. Using a vegetable peeler, shave Comté over the top of each bowl. Serve immediately.
Recipe by
Comte USA
at https://comte-usa.com/comte-risotto-with-asparagus/