Comté & Ham Crêpes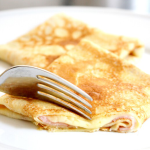 Crêpes
1 teaspoon vegetable oil
3 large eggs
1 cup whole milk
½ cup water
¼ teaspoon salt
1 cup all-purpose flour
2 tablespoons melted butter, cooled slightly
Filling
2 cups (loosely packed) shredded Comté (about 6 ounces)
6-8 ounces thinly sliced quality ham
Put 1 teaspoon vegetable oil in a 12-inch nonstick pan. Place pan on low heat for 10 minutes to preheat.
In the meantime, make batter. In a large bowl, whisk together eggs, milk, water and salt until well blended. Whisk in flour. Add melted butter and whisk until batter is smooth.
Once the pan is preheated, increase heat to medium and let sit 1 minute longer. Wipe out oil in pan. Add ⅓ cup of batter and swirl to evenly coat bottom of pan. Cook 1-2 minutes, or until bottom is browned in spots. Using a spatula, loosen edge of crêpe then use your fingers to flip crêpe over. Cook until browned on other side, 1-2 minutes. Transfer to wire rack. Repeat with rest of batter, stacking crêpes on top of each other as they're finished.
To finish crêpes, preheat oven to 350°F. Line a sheet pan with parchment paper.
Put ¼ cup shredded Comté in center of a crêpe. Place 1-2 slices of ham over cheese. Fold up the sides of crêpe to make square package. Place crêpe, folded side down, on the parchment lined baking sheet. Repeat with remaining crêpes. Bake 8-10 minutes, or until cheese is melted. Serve warm.